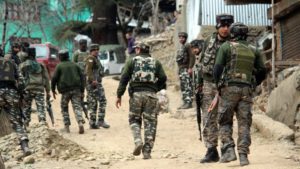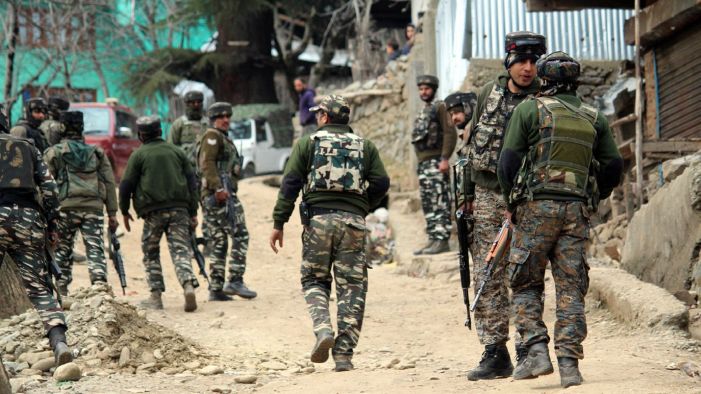 Srinagar: Four militants including Islamic State (IS) Kashmir chief, civilian and a cop were killed in a fierce gun battle between militants and government forces in Srigufwara area of south Kashmir's Anantnag district .
The subsequent clashes between the protesters and government forces, which followed the encounter, left 20 persons injured.
According to the locals, the government forces laid siege of a suspicious house at Kheram Nowshera village of Srigufwara in the pre-dawn hours of Friday.
As soon the forces including police army and CRPF zeroed in on the house where militants were hiding, they were fired upon with automatic rifles.
The government forces retaliated, triggering an encounter.
When the exchange of gunfire was taking place, Muhammad Yousuf Rather, 58 the owner of the residential house where militants had taken shelter, was killed and his wife Hafeeza was injured.
The locals alleged that the husband and the wife were given no time to leave the house as government forces started firing upon the house right from the start.
When the forces were exchanging gunfire, the youths assembled near the encounter site and pelted stones on government forces in a bid to breach the cordon and protect the militants trapped in the house.
The police and paramilitary forces, however, fired pellets, bullets and tear smoke shells to disperse the protesters.
During the firing, a youth Ubaid Ahmad was hit with bullet in his neck and his condition was stated to be serious.
"Subsequently, nine youth also suffered injuries and five of them have bullet wounds," a police official to The Kashmir Press.
As the encounter progressed, the house caught fire and during the intense gunfight four militants were killed including the chief of IS in Jammu and Kashmir, Dawood Salafi alias Burhan from HMT Srinagar.
Besides Dawood, three other militants who were killed include Majid Manzoor Dar from Talangam Awantipora, Ashraf Itoo from Hatigam Srigufwara and Adil Hassan Mir from Sheipora Srigufwara.
A Special Police Official Ashiq Hussain, associated with Special Operation Group was also killed while two army men suffered injuries at the encounter site.
Hospital sources said that the condition of two youth injured during the encounter was critical.
They duo were identified as Shahid Nazir Hajam son of Nazir Ahmad Hajam and Burhan Shafi son of Mohammad Shafi Bhat. Both of them  were shifted to sub-district hospital Bijbehara where from they were shifted to Srinagar for further treatment.
They have firearm injuries in their heads, hospital sources said
The other injured include Rafiqa Akther, 40, wife of Ghulam Mohd Rather of Nowshera (Trauma Right Hand Bullet Injury), Nissar Ahmad Itoo, 27, of Hatigam (Pellet injury in both legs), Gowhar Ahmad, 25, of Waghama (pellet injury in both arm), Zahid Ahmad, 24, of Waghama (Pellet injury face with left eye), Tahir Ahmad Najar, 26, of Waghama (Bullet injury left arm with fracture), Suhail Farooq, 21, of Nowshera (Bullet injury with left thigh) and Aadil Ahmad Sheikh,22, of Magraypora (Bullet injury left leg), hospital sources said.
All the injured were referred to different hospitals of Srinagar for specialised treatment, sources said.
The clashes continued till late night in the area while as the internet remained suspended in Anantnag and Srinagar.
Police version
The police said following intelligence inputs about the presence of militants in Khirgam area of Sragufwara in district Anantnag, a search was launched by a joint team of army, CRPF and police in morning today hours in the area on Friday.
"As the joint petrol made an advance towards the suspicious house where the militants were hiding,  they opened indiscriminate fire on the forces personal due to which a cop Ashiq Hussaain and a civilian Mohammad Yousuf Ratheraged-53 son of Ghulam Mohammad Rahther resident of Nowshahar Khirgam got injured and succumbed to their injuries," the police said.
Consequently some more civilians were also injured in the clashes and were shifted to hospital, police added.
Incriminating material and huge quantity of ammunition was also recovered from their possession.