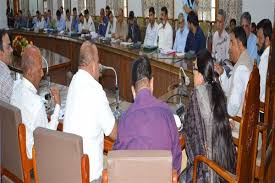 JAMMU: Minister for Housing & Urban Development (HUDD) Sat Sharma today chaired a meeting to review the functioning of Urban Local Bodies.
The Minister reviewed the status of recently initiated outsourced service of door-to-door collection of solid waste in Katra, Udhampur, Samba and Kathua. He directed the concerned to extend this initiative of DULB to maximum number of towns in the region.
The Minister was informed that the tenders related to setting up of waste treatment plants at Katra and Udhampur clusters have been closed successfully with selection of two companies for the same. A total viability Gap Funding of Rs 8 crore for both the projects shall be provided to the developers.
It was further informed that tendering for setting up of treatment plants in Kathua and Samba is already in progress while as the process would be started for Doda and Bhaderwah next week.
Emphasizing on performance-based evaluation of all key departmental functionaries, the Minister instructed that all MCs shall strive hard to attain self-sufficiency through widening of their revenue generation avenues to pave way for development of towns on modern lines.
Taking note of necessity of septage management in MCs, the Minister directed for setting up of one septage treatment plant at every MC whereby this model could be adopted for rest of remaining ULBs. He encouraged them to put in extra efforts to get 36 ULBs declared ODF ending this month.
A team from Quality Council of India is already in state, visiting various ULBs for assessment of ODF status which has accessed six ULBs till date.