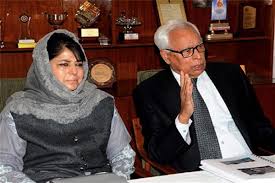 SRINAGAR: Governor N N Vohra on Tuesday has written to Chief Minister in regard to the preservation of the two lakes and has urged her imperative intervention.
"I am seriously concerned to receive reports about the encroachments and unauthorized constructions around the Dal and Nigeen Lakes, for want of effective surveillance by the concerned local authorities," he said.
Raj Bhavan Spokesman informed that Governor has received letters and complaints that besides the continuing encroachments around the Dal Lake, unauthorized construction is now also taking place along the Nigeen Lake, in contravention of the State Government's order.
This is a serious violation of the State Government decision that a Green Belt is to be created around the Nigeen Lake and no construction is to be allowed within 200 meters of the Lake boundary.