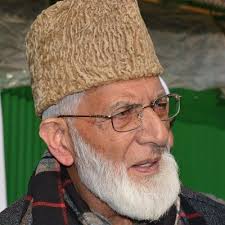 Srinagar: Making its position clear with respect to 'talks', Hurriyat (G) led by Syed Ali Geelani has said that it categorically dismisses the idea of bilateral talks on Kashmir while reiterating that 'Kashmir dispute' stands above the "Indian constitution".
The conglomerate, however, maintained that the position of Joint Resistance Leadership (JRL) on talks was not also wrong.
In a statement, the Hurriyat (G) spokesman, G.A Gulzar stated that Kashmir dispute 'stands above the Indian constitution' and the only acceptable solution to this vexed Kashmir issue lies in the compliance of the United Nations Resolutions on Kashmir.
Terming the stand of Hurriyat (G) as 'crystal clear', the spokesperson said that the five point formula presented by Hurriyat Conference in 2010, provides a baseline for any dialogue with India.
The spokesperson said this formula lays down the criteria that unless India accepts Kashmir as a dispute, it would be an exercise in futility to talk about meaningless bilateral talks with India.
The other four points include withdrawal of forces and "black laws", punishment to those involved in the killing of 128 people in 2010, and release of political prisoners.
The Home Minister had earlier offered talks to the Hurriyat, but they said they will only respond once the government of India had made its stand clear with respect to the specifics of the talks.
Chief Minister Mehbooba Mufti has appealed to the resistance leadership to grap the opportunity of dialogue with Delhi and move forward.
In response to the offer, the JRL comprising of Syed Ali Geelani, Mirwaiz Umar Farooq and Mohammad Yasin Malik have said that they were willing to engage in dialogue with Delhi provided it makes it stand clear on talks.
When asked Gulzar whether the Hurriyat (G) and the JRL stand on talks seemed to be in conflict to each other, he said the conglomerate has always maintained Kashmir is a dispute and its solution can't be found within the Indian constitution.
"The stand of JRL is also not wrong," he said. "Whatever we said on bilateral talks, it is an individual party stands".
Mirwaiz Umar Farooq  had earlier stated that Hurriyat was not in hurry to hold talks with Delhi after Home minister Rajnath Singh lashed out at the pro-resistance leadership, accusing them of misleading the Kashmiris.