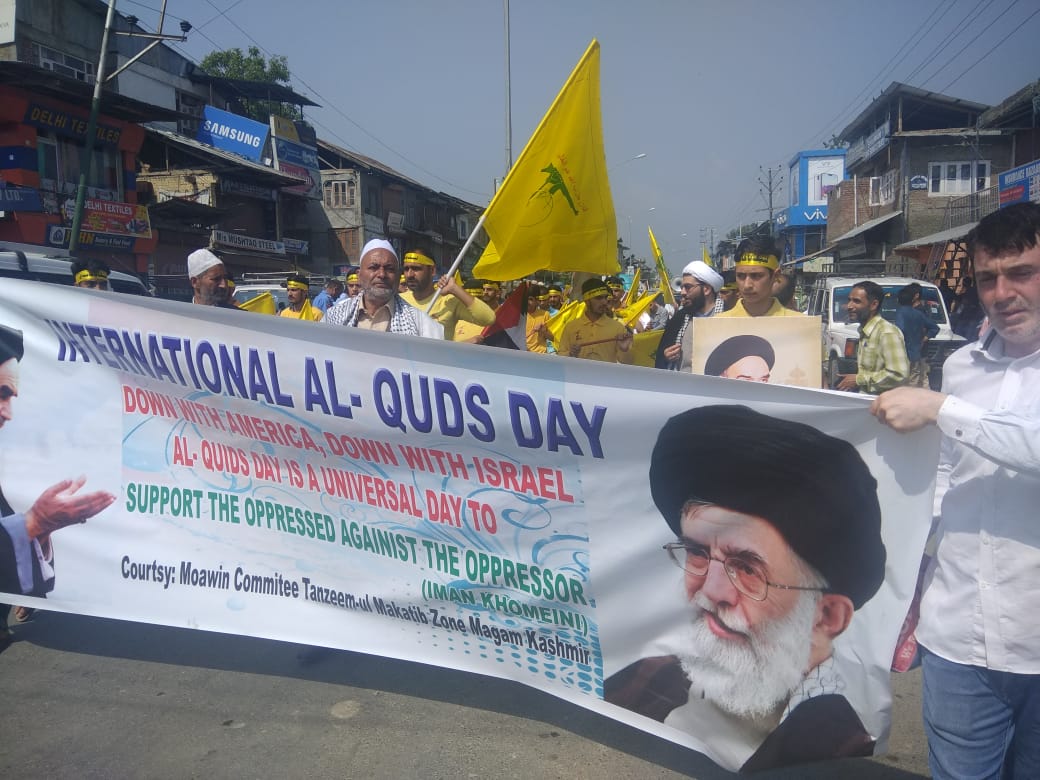 Srinagar: Hundreds of Muslims, holding placards against Israel and the U.S., marched on Road in Magam town of Central Kashmir's Budgam to protest against "Israeli occupation of Palestine" and "India's forced occupation of Kashmir" on Friday.
Under the banner of Maiwen Committee Tanzeemul Makatib Magam, the people gathered at Magam town and protested against the brutal occupations.
Holding banners and placard which read "down with America" "down with Israel" and "Al-Qudus day is a universal day to support the oppressed against the oppressor", they raised slogans against Israel and highlighting the "sufferings of the Palestinians", a predominantly Shia gathering marched on the International Al-Quds day.
The day was first initiated by Islamic Republic of Iran in 1979, which is observed every year on the last Friday of the Islamic holy month of Ramadan.
Several persons who took part in the rally, whike speaking to Kashmir Press said, "Mahatma Gandhi boycotted Israel, but they have Israeli embassy in New Delhi today. "Israel and India has no humanity". By the grace of God, we hope Israel will be finished".
He further said: "India must intervene in Israeli-Palestinian conflict. They should shut down the Israeli Embassy. The Muslims hate Israel," he said.
Slogans were also raised against the Islamic State and in favour of Syrian President Bashar Al-Assad.
They further demanded that the India should end their brutal forces on Kashmiris and we should be given right to self determination.