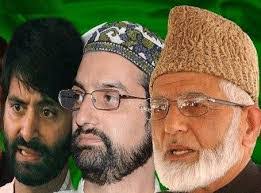 Srinagar: Strongly condemning the killing of a 21 year old Qaiser Amin who  was mowed down by CRPF gypsy on Friday,  the Joint Resistance Leadership (JRL) has  said that 'repressive measures' by forces are 'big stumbling blocks for' 'any kind of engagement.'
The trio had recently stated that they were ready to hold dialogue with Delhi provided it clears its ambiguous stand.
On the killing of Qaiser, the JRL said that the police have registered the case of rash driving against CRPF for mowing him to death, when it was a plain murder.
"What is worse is that after mowing  down kaiser under forces vehicle a case for "rash driving" has been registered by the police in this regard as if the incident happened by accident ,when it is a case of plain murder," JRL stated.
The accused would anyway go scot free under AFSPA, it added.
JRL comprising of Syed Ali Geelani, Mirwaiz Umar Farooq and Mohammad Yasin Malik further said the '"killing spree of Kashmiri's by the forces continues despite so called Ramzan ceasefire either by bullets pellets or lately by crushing them under their vehicles".
"Repeatedly putting down town under curfew and severe restrictions , snapping internet connection, barricading roads and alleys ,stationing of forces at every nook and corner even in the holy month of Ramadan causing grave inconvenience and harassment to the people living  is uncalled for and highly condemnable . All these repressive measures are big stumbling blocks for peace in Kashmir and any kind of engagement," JRL said.