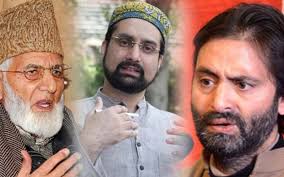 Srinagar:  Terming the action of state authorities to curb the political sentiment as "barbaric and vile actions of brutality,"Joint Resistance Leadership (JRL) has asked people to observe complete shutdown on the coming Saturday against the desecration of graveyards, religious places, razing of houses and chopping of orchards by the government forces.
The trio including, Syed Ali Geelani, Mirwaiz Umar Farooq and Mohammad Yasin Malik,made a fervent appeal to the people to observe a general strike on June 2nd, Saturday to register strong and peaceful protest
"The increase in civilian killings, desecration of religious places, unnecessary and unjustified deployment of heavy contingents of forces in Jamia Masjid Srinagar area, desecration of graveyards of martyrs, chopping off fruit orchards at Sugam Shopian, killing of a civilian Bilal Ahmad Ganie and plight of prisoners in various jails including Tihar are barbaric and vile actions of brutality' of forces," JRL stated.
"Bulldozing of residential houses, chopping down the orchards belonging to family members of Hizb Commander Zeenat-ul-Islam and desecrating the graveyards of martyrs like Sameer Tiger and all other forms of state terrorism, the freedom loving people of Kashmir should rise to the occasion to safeguard their countless and precious sacrifice".
JRL condemned the hypocritical role played by the chief minister Mehbooba Mufti by remaining a mere spectator of the atrocities inflicted on the people of Kashmir. They reminded her the past "when she used to shed crocodile tears on the funeral of slain youth and meeting with families of our martyrs".
"The Chief Minister of the state exploited the grave and grim situation created by the SOG (Special Operation Group of Police) under the shade of her predecessors, today police force has been turned into SOG and a reign of terror has been unleashed in every nook and corner of the state," the trio stated in a statement to The Kashmir Press.
JRL while taking a dig at coalition regime said that "occupational forces are suffering from moral bankruptcy and as of now they desecrate these graveyards and scriptures".
"Taking revenge from the family members of the warriors and desecrating their dead bodies is against all human, moral, religious and spiritual ethics," they said.
JRL appealed UN Secretary General and UN member countries to appoint a delegation, to take stock of the volatile situation in Jammu and Kashmir regarding gross violations of human rights at the hands of Indian occupation forces.