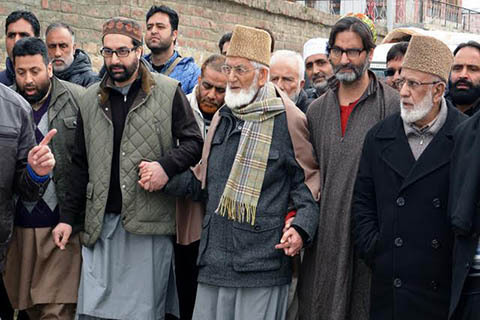 Srinagar: Seeking clarity and transparency from Indian leadership, the Joint Resistance Leadership (JRL) on Tuesday rejected the dialogue offer  in current form made by the Union Home Minister Rajnath Singh recently by calling it "ambiguous and unclear".
Urging upon India to come up clean on the process, the JRL said: "The stakes for people of Kashmir are very high We have invested heavily in our struggle for our Right to self-determination and cannot afford to be part of an ambiguous efforts that has no clarity and direction."
The JRL leadership comprising veteran Syed Ali Geelani , Mirwaiz Umar Farooq and Mohammad Yasin Malik met at Geelani's Hyderpora residence-cum-office today to discuss Mr. Singh's offer with the aim to jointly respond to Delhi's offer.
After consultations, the leaders issued this joint statement: "The statements emanating regarding "talks "in the course of last few days from different people at the helm of affairs in New Delhi are unclear and ambiguous. While Mr. Rajnath says there should be dialogue with both Kashmir and Pakistan but both "Kashmir and Kashmiri is ours", Ms. (Sushma) Swaraj puts a rider and says no talks with Pakistan unless "terror is stopped" (and) then Mr. Amit Shah gives a spin to the ceasefire (by saying) that it's not for militants but people while (the) state DG had issued a statement that it's for militants to come back home. All this ambiguity leaves little room to consider the talk about talks seriously with a purpose or warrant a response.  (The) Joint Resistance Leadership wants to put all this in perspective and once again reiterate its stand."
The JRL statement further said that "these statements come a few days after Mr. Modi said in Srinagar that the panacea to the Kashmir problem, according to him, is "development" and "peace" is a prerequisite for that to happen, putting the onus of  bringing peace on people while absolving Government of India of all role and responsibility  in the matter, deliberately choosing to ignore the historical background of the Kashmir problem, it's internal and external dimensions, the reason behind the presence of lakhs of his troops here, the daily aggression and the highly volatile situation on (the) ground and near (the) LoC in the conflict-ridden  region. It was like Mr Modi was playing a cruel joke on the people (of Kashmir)."
The JRL questioned the dialogue offer by asking: "what is this "talks" which Mr. Singh is referring to? What is the agenda of these talks? Is it about Mr Modi's suggestion of development ?"
The leaders said they do not intend to pick up holes in various contradictory statements made by Mr. Singh, Mr. Shah and Ms. Swaraj, but "want to understand what GOI is conveying through them" so that the leadership can respond accordingly.
The JRL further said that for a political resolution of the Kashmir conflict "dialogue among stakeholders is the best process and option available. As J&K is a divided territory and half of it is in Pakistan, this dispute has three stakeholders: India, Pakistan and the people of this land (Kashmir)."
"Meaningful talks based on a clear agenda underlined by sincerity among all the three stakeholders is an assured and peaceful way to resolve the conflict of Kashmir in all its forms and dimensions. Absence of any one stake holder in the process will not yield any solution," the JRL said.
The pro-resistance leadership urged upon stakeholders to demonstrate "transparency in such a process and an assurance from all sides that promises and pledges made will be honoured. Talks that are so held keeping in view the concerns and needs of stakeholders, especially the most affected party, to the satisfaction of all will surely be successful and result oriented."
"Any effort that GOI makes in this direction will find takers in Kashmir and Pakistan. Let GOI give clarity on what it wants to talk about and speak in one language, we are ready to join the process."
The Joint Resistance Leadership (JRL) had earlier said that it will "meet soon" to respond formally to the dialogue offer on Kashmir dispute made by Mr. Singh.
Sources in the ruling People's Democratic Party (PDP) are insisting that Delhi's offer has not been made keeping an eye on the upcoming parliamentary elections, but "it is a policy decision to involve all stakeholders to find a solution."
A top source in the party hoped that "the JRL will respond positively to the offer being made to them."
Naeem Akhtar, the PDP-BJP government's official spokesperson and a senior cabinet minister, told Dawn that "we expect everybody from Pakistan to Hurriyat and opposition National Conference to respond to New Delhi's offer."
Mr. Akhtar said that "this time the dialogue offer has been made to both internal as well as external stakeholders which gives it an entirely different orientation."
He argued that "a mindset of total rejection and a maximalist approach" will not help anyone, adding that "the response has to be grounded in reality by exhibiting statesmanship."
Akhtar said that everyone had been insisting upon New Delhi to show statesmanship and now that India's federal home minister has offered talks to both Pakistan as well as the Hurriyat, it was time to "show statesmanship which cannot be shown by remaining rigid or displaying solidified positions".
Earlier, on May 16, Mr. Rajnath Singh had sent out a tweet which caught many in Kashmir by surprise.
Mr. Singh wrote "The Centre asks Security Forces not to launch operations in Jammu & Kashmir during the holy month of Ramzan. Decision taken to help the peace loving Muslims observe Ramzan in a peaceful environment. HM Shri @rajnathsingh has informed the Chief Minister, J&K of Centre's decision."
Though he was quick to add that "Security Forces to reserve the right to retaliate if attacked or if essential to protect the lives of innocent people. Government expects everyone to cooperate in this initiative and help the Muslim brothers & sisters to observe Ramzan peacefully and without any difficulties."
The offer made by Mr. Singh was perceived as New Delhi's willingness to pave the way for a formal dialogue on Kashmir dispute with both Islamabad and Srinagar.
Speaking at an event organised by Hindi television channel Aaj Tak to commemorate Narendra Modi's four-year tenure, Mr. Singh expressed Delhi's willingness to engage with both Pakistan as well as the Hurriyat.
Soon afterwards, the Srinagar-based Mirwaiz Umar Farooq offered his implicit support to the dialogue process in a tweet with a caveat: "it (dialogue process) is long overdue that India & Pakistan allow the leadership of two divided parts of Kashmir including Gilgit-Baltistan, Ladakh, AJK and this part of J&K to meet with each other and decide on their future course of action regarding their destiny as such a step is of utmost" adding, in another tweet, that "importance for finding a resolution of Kashmir dispute acceptable to all parties most importantly to the people of Jammu and Kashmir. Hurriyat leadership will extend its full support to every serious effort aimed at resolving Kashmir so that peace prevails and bloodshed stops."
Key Kashmir watchers argued that New Delhi, after due consultations with the regional partner PDP, "wanted something to sell to the people of Kashmir following two straight years of unending violence against the people of Kashmir—the violence which witnessed killing of 700 people that included 465 militants and 235 civilians since the beginning of 2016."
"On seeing its space shrinking in Kashmir's political landscape, the PDP is hoping there is no repeat of what happened in Budgam by-polls when 2 per cent and 7 per cent voter turnout was witnessed in two separate phases respectively amid violence and civilian killings in April 2017."
But senior PDP leader Akhtar said that Delhi's offer should not be associated with any electoral process. He claimed the offer made by India's ruling party BJP, with a huge mandate, is "beyond electoral dividends or headlines".