Days after Sushil Pandit had spread a fake news about an imaginary "attack on CRPF Jawans in Pampore", another member of the Pandit community, Aditya Raj Koul, Sunday turned into a saboteur when he questioned New Delhi's Ramzaan ceasefire in a series of tweets by basing his arguments on completely unverified information.
Kaul, associate editor at The Republic TV, wrote in a tweet that "Bad news to begin Sunday morning. CRPF vehicle carrying 28 Jawans from HQs to convoy grounds attacked by fringe stone pelters in Bemina of Srinagar. 7 with grevious injuries rushed to 92 Base Hospital, rest with minor injuries at SKIMS (Bemina). Tragic. Ramzan Ceasefire gift?"
According to Jammu and Kashmir Police, the mishap had occurred as the driver of the vehicle carrying CRPF personnel had "loss control" over the wheels.
Senior Superintendent of Police Srinagar Imtiaz Ismail Parray said that "based on CCTV camera footage it is clear that there was no stone pelting in the area and the mishap occurred as the CRPF driver lost control over the vehicle."
A CCTV footage of 33-second duration released on social media, which has since gone viral, clearly shows that there was no stone throwing in the area.
The CRPF vehicle can be seen turning turtle while other vehicles are plying normally.
"The CCTV footage was procured and it is clearly seen that the driver lost control which resulted in the mishap," SSP Srinagar Ismail Parray said, adding that "19 troopers were injured in the road accident."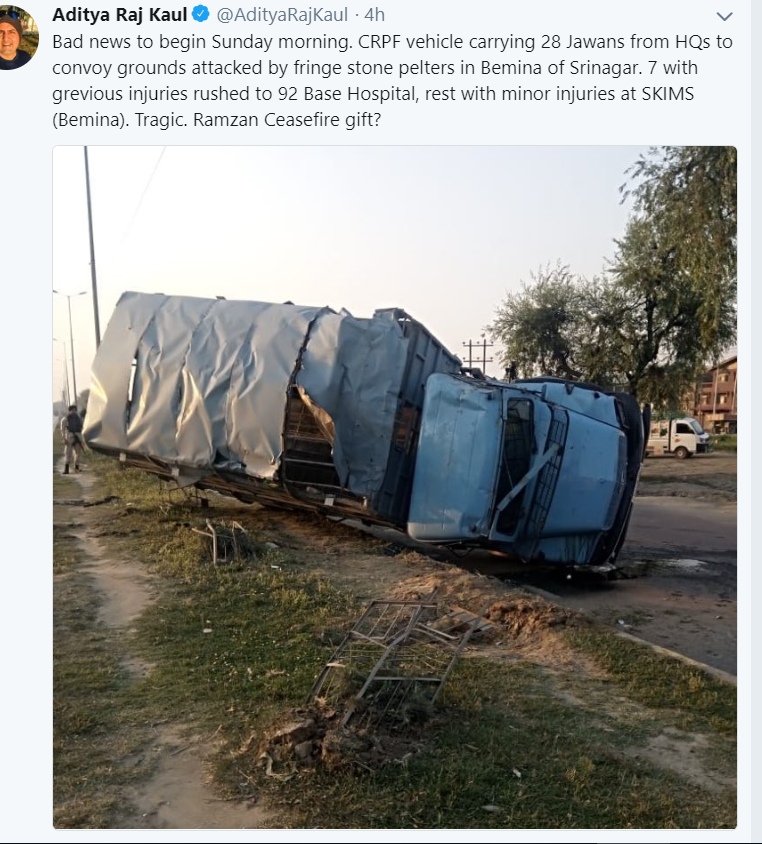 Parray also said that a case under relevant sections of law has been registered.
Meanwhile, Kaul who claims he has reported from "Baghdad, Jerusalem, Ramallah, Kashmir" and tracks "Af-Pak" and "Foreign/Strategic Affairs" for The Republic Television did not even find it necessary to cross-check the information and instead sent out a series of tweets to spread fake news.
In a subsequent tweet related to the same incident, Kaul wrote: "This is what fringe mobster stone pelters did to #CRPF Jawans by throwing stones at their vehicle which turned turtle early this morning in Bemina of Srinagar, Kashmir. J&K Govt not helping brave forces in Kashmir. Is this what they want to achieve by Ramzan Ceasefire in J&K?"
He accused the local government of not helping CRPF troopers and put a question mark on Ramzan ceasefire.
Earlier, Inspector General of CRPF Ravideep Sahie, according to a local news gathering agency, had reported that "the mishap took place after some youth pelted stones on the vehicle."
Sahie also did not await confirmation from the local police and instead in a hurry spread the fake account of the incident.
Prior to Mr. Kaul's attempts to incite violence and stoke passions in the absence of facts, another known provocateur from the same community Sushil Pandit turned into a rumour monger on 21 May when he spread a fake news declaring that five CRPF personnel were killed in South Kashmir's Pampore area.
"Just heard, 5 CRPF jawans martyred in Pampore. #RamzanCeasefire is working. Question is who is it working for!," Pandit had tweeted.
No attack had taken place there. No one was killed.
Taking cognizance of the matter, Jammu and Kashmir Police booked Sushil Pandit for "spreading rumours and fake news".
The police said it took cognisance of the matter immediately after it observed the Pandit's tweet amounted to an offence under law.
"Police has registered a case in this matter at Police Station Pampore under FIR No. 49/2018 under section 505 RPC," the police said in a statement.
The question remains: will the J&K Police take action against Aditya Raj Kaul for spreading fake news, inciting violence, stoking passions in a sensitive period of calm in Kashmir during Ramzan?