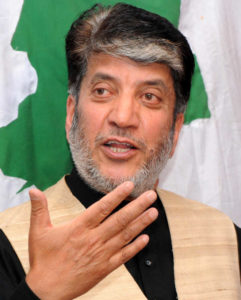 Srinagar: Responding to Indian Home Minister Rajnath Singh's recent statement about Delhi's willingness to engage with Pakistan and the Hurriyat, Jammu & Kashmir Democratic Freedom Party (JKDFP) on Sunday has said that "If India is serious in talks it must engage all parties to the dispute."
In a statement issued to the press, JKDFP said, "Kashmiris have always maintained that all disputes are to be resolved through dialogue. However, the dialogue process has its necessities which are a must to complete so as to make the process result-oriented."
Quoting party's secretary general Moulana Mohammad Abdullah Tari, the statement further explained that "New Delhi must not use the term 'talks' only before media but it should benefit from dialogue, as an institution, to resolve the long-pending Kashmir dispute."
The statement insisted that Kashmiris were the principal party to the Kashmir dispute.
"Kashmiri people are yearning for peace as they are the main sufferers of the dispute. It is our firm belief that dialogue should not be a mere photo session, but it must lead to a resolution."
The statement hoped that dialogue should pave the way for a final solution rather than adding to the already existing problems.
"If Indian Home Minister is serious in his statement, he must order his forces to go back to the barracks, engage all the parties to the dispute and release all political prisoners so that a conducive atmosphere is built which can then lead to a result-oriented dialogue," Moulana Tari was quoted as having said in a statement, adding that "these are not any conditions to dialogue, but its necessities.