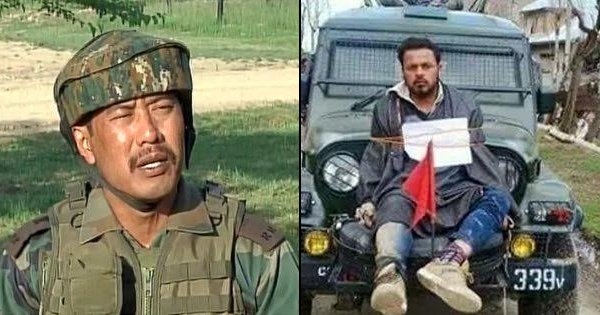 Srinagar: The family members of the young girl, who was caught by the police along with Major Leetul Gogoi from a Srinagar hotel, have left their home located in central Kashmir's Budgam district.
Major Gogoi is the army officer who became infamous for using a man from Budgam as human shield in the year 2017.
The neighbours and the relatives of the girl told The Kashmir Press that the family left their home on Wednesday evening.
"They had no brick and mortar house. They live in a shed made of corrugated tin sheets," a relative of the girl said.
"The mother was the lone person present inside the tin shed till early afternoon. Later, she also left. Nobody knows where the family has gone".
The locals said the family was extremely poor, adding, their house was washed in the year 2014 floods- reason why they were living in a temporary shelter since then.
The locals and relatives said that the girl was handed over to the family on Wednesday evening.
"The police called the Sarpanch and the family last evening. Then they handed over the girl to them," they said.
"Soon after, the girl was dispatched to her maternal home. Then one by one other family members also disappeared from their home till we found the shed locked".
The locals claimed the family wanted to settle down the case and avoid any hype.
"Plus, we have come to know she is a teenager, not a minor girl," locals said.
On Wednesday, Major Gogoi was detained by police along with a girl from a Srinagar hotel.
He was handed over to the police after he entered into scuffle with the hotel management, which resisted his entry into the hotel.
The police has started investigations into the case after Inspector General of Police constituted a high level probe team headed by Superintendent of Police North of Srinagar.
The police said after questioning Major Gogoi, he was handed over to his unit.
Gogoi is the same army officer who had tied a man (Farooq Ahmad Dar) on the bonnet of his official vehicle and used him as a human shield in the Beerwah area of central Kashmir's Budgam district.
His controversial act was vociferously condemned in Kashmir, but he received an out of turn commendation from the Indian public and the army for doing so.
Gogoi was given an honorary award by the army for his "sustained valour" in "counter insurgency efforts."