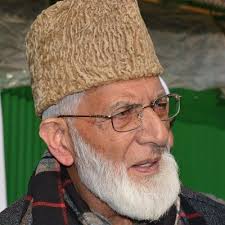 While hitting on the Modi's announcement of package to Kashmiri, Hurriyat Conference (G) chairman, Syed Ali Geelani Saturday said "It is a well thought out ploy to cover ongoing "bloodshed" in state and "mislead" international community and its own population from the ground realities.
He added that it is a "deliberate attempt" of India to draw attention away from the Kashmir issue.
"The state authorities will have to face "people's wrath" and resentment and all these arbitrary arrests is synonymous to disrespect our fundamental right and added it is "extremely unwise" to deny political space and "muzzle genuine voices", he said
In its statement while strongly criticizing India and stooges he said that under the disguise of ''Sub Ka Vikaas'', the authorities have turned state into a butcher house.
Gelani also paid tributes to Shaheed- e-Millat Moulana Muhammad Farooq, Shaheed-e-Hurriyat Khawja Abdul Gani Lone and the Hawal martyrs, on their anniversary, praying for highest place in Jannah for them.
"The best way to pay tributes to the our martyrs is that we should continuously and tirelessly pursue the cause of our freedom struggle and we should not indulge in any such activity as has any possibility of harming or damaging our precious and countless sacrifices in the field of our movement," Geelani said in a statement issued to KNS.
Meanwhile while decrying the restrictions, arrests and curbs a head of Modi's visit, said that state administration imposed curfew like restrictions and curbs and in its crackdown on resistance leaders, arrested or placed them under house arrest.