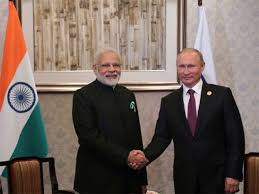 Prime Minister Narendra Modi is going to have an informal meet with Russian President Vladimir Putin on May 21.
The summit is expected to give a 'strong message' that New Delhi believes in pursuing a deep rooted relationship with all major countries of the world, officials said here.
"The statement we are making is that India has strong relationship with all the major partners," a senior official said on Thursday.
Mr Modi's one-day trip to Russian summer beach resort of Sochi coincides amid US sanctions against Moscow.
The move has raised concerns that the Washington's decision could possibly affect Russian military supplies to India, particularly an estimated Rs 40,000-crore deal to buy the sophisticated, long-range S-400 air defence system.
Even Defence Minister Nirmala Sitharaman had visited Moscow last month to discuss a series of defence deals. In addition National Security Adviser Ajit Doval and Foreign Secretary Vijay Gokhale also have been to that country lately.
A section of security analysts and Indian officials maintain that while the US is keen to stall Russia-India defence tie up under the pretext of Countering America's Adversaries Through Sanctions Act (CAATSA), it is essentially keen to force countries like India to enhance defence procurement from the US.
Several analysts also find it surprising that while the US seeks a strategic partnership with India, its moves were like weakening India in terms of defence preparedness.
It is in this context, a senior official on Thursday said: "We are not going to allow our defence requirements to be dictated by any other country. Whatever is in India's interest in terms of procuring equipment for national security and defence is what will determine the manner in which we act with various countries".
The US sanctions against Russia is for its meddling in Ukraine, Syria and the 2016 presidential elections.
India's military and strategic ties with Russia date back to the Cold War era.
Meanwhile,Indian officials here say that there is no major rift between Russia and India and even if there are some issues the relationship are deep rooted and trusted that it can deal with any "differences".
"The question whether the visit of Prime Minister Modi is to reverse any rift between India and Russia have been raised in media as well. India's relationship with Russia is trusted and deep rooted….The relationship is strong and strategic enough that we can handle the differences of opinion," an MEA official said here.
To a question on Russia-Pak relationship, the source in MEA said: "As far as relationship between Russia and Pakistan is concerned, we have from time to time raised concerns with Moscow and from time to time they have assured us that the government of Russia will not undertake any such activity which can affect India's national security and we accept the assurances".
Mr Modi will be traveling to Russia at the invitation of President Putin for an informal Summit with President Putin in the city of Sochi.
Indian officials further said that more such informal Summits by Prime Minister Modi with global leaders are not ruled out.
However, there was no confirmation on whether Mr Modi will have such informal high-level meeting with the US President Donald Trump.
The MEA in a statement on Monday said that: "This informal Summit in Sochi between Prime Minister Modi and President Putin is in keeping with the tradition of regular consultations between India and Russia at the highest levels."
However, MEA sources said here a large part of informal meeting is "one to one but there may be only restricted delegation level meeting".
Further more, no Union Minister is likely to travel with Prime Minister and thus in more ways than one the Summit meeting could be aimed establishing a personal rapport between Mr Putin and Prime Minister Modi.
President Putin will host lunch for Prime Minister Modi, the source said.
Both leaders to also exchange views on their domestic priorities like the developmental works being carried out in Russia by President Putin while India can raise Prime Minister's projects like 'Make in India'. There would be no regular protocol like guard of honour and so on, sources said.
"Context of the meeting is in line with Prime Minister Modi's emphasis on wider engagements with various world leaders in addition to the formal state visits," the source said adding, "Prime Minister attaches importance in developing this means of (informal and personal rapport) diplomacy as a means of strengthening relationship".
"So far as Russia is concerned, it is an old friend and trusted partner," an MEA official said.
"It is thus not an issue of building a relationship or deepening trust. It is a question of using that trust and friendship that we have to discuss a number of issues those have emerged as a result of important changes in the international and regional situations," the official added.
Prime Minister Modi and Chinese President Xi Jinping held a similar informal summit in China recently. (UNI)