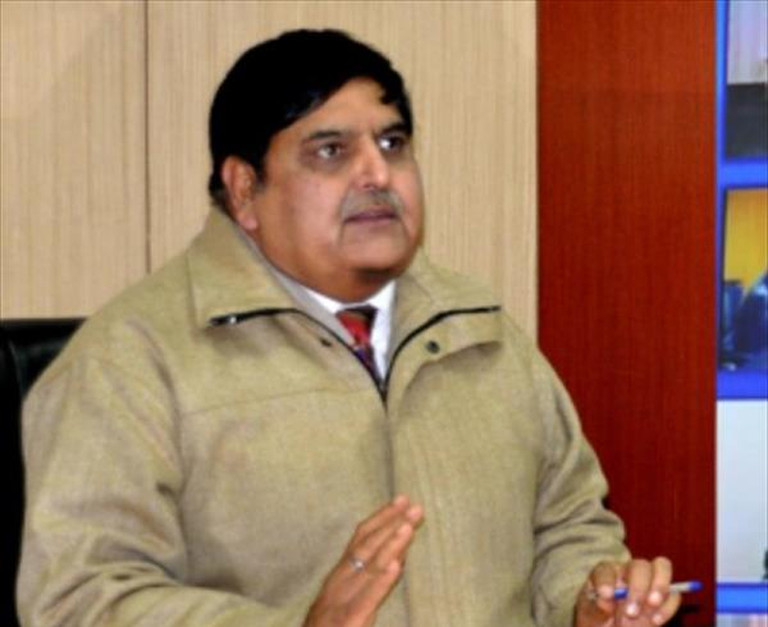 The Jammu and Kashmir Government has granted yet another extension, this time a one-year-long, to Chief Secretary Bharat Bhushan Vyas after "tweaking rules" to provide a longer-term tenure to him.
This was done, as reported by sections of the media, on "state government's recommendations".
Is there something more to his 'extensions' than just "recommendations" from the state government?
What is so distinctive about Jammu and Kashmir's Chief Secretary Mr B B Vyas that he keeps enjoying never-ending seasons of extensions? 
The Kashmir Press Exclusive
If sources in the state bureaucracy are to be believed, Mr Vyas has made himself known as "Delhi's pointsman", partly "because of his stance on contentious issues like GST, hydropower projects and Article 35-A etc".
He has been allegedly "in favour of extending GST to Jammu and Kashmir, vociferously opposing the demand for return of hydropower projects to the state from the NHPC, and also a voice to annul 35-A".
Obviously then, it is being said that Mr Vyas's take on all these issues is "more favourable to Government of India than to the state of Jammu and Kashmir".
Top sources revealed that Mr Vyas's "flexibility in posting political favourites to key postings in the Kashmir Valley has also made him New Delhi's favourite man here."
Other sources alleged that BB Vyas has also been "successful in running vilification campaign against all his competitors up and down the Civil List with the aim to get a place secured for himself."
Mr Vyas, a 1986-batch IAS officer, was appointed as the Chief Secretary of Jammu and Kashmir on April 28, 2017.
Earlier, the state government headed by Chief Minister Mehbooba Mufti had ordered an extension into the services of BB Vyas for a period of three months which came into effect from December 2017.
Previous rules prohibited extension of a Chief Secretary-level officer beyond six months, but Mr Vyas has already enjoyed six-month extension in two instalments.
With mysterious amendments in rules, Mr Vyas can now hold the coveted position in bureaucracy till 30 November 2019. By then, he will be 62-years old.
In a bizarre move, the Department of Personal and Trainings (DOPT) tweaked the All India Services (Death-Cum-Benefit) Rules, 1958 to allow Mr Vyas to continue as J&K Chief Secretary till he attains the age of 62 in case the state government so desires.
Sources further told The Kashmir Press that "when his senior and former Chief Secretary, Mr B R Sharma, recently tried to lobby for his return to Jammu and Kashmir from Centre, he was reportedly even refused an appointment with the Chief Minister."
There is also a genuine concern among many bureaucrats that "Mr Vyas has almost made himself indispensable to the system while enjoying Delhi's ashirvad".
"Basically, a message was telegraphed by the manner in which the rules were modified overnight to accommodate him (Mr Vyas). The message was that the senior bureaucracy enjoys blessings of central government and façade of an elected Chief Minister notwithstanding, New Delhi is actually in direct control of affairs in Jammu and Kashmir".
Previously, Mr. Vyas has also served as the Principal Secretary to the Jammu and Kashmir Governor and former Chief Minister Omar Abdullah, besides holding various positions including that of the Principal Secretary (Finance).
The state's bureaucracy is fuming, but can't come on record for obvious reasons.
The grapevine has it that Mr. Vyas could be Jammu and Kashmir's 'next Governor' as well.