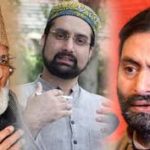 The joint resistance leadership on Thursday has termed the recent announcement of halt in operations as a 'cruel joke'.
The Joint Resistance leadership (JRL) comprising of Syed Ali Geelani, Mirwaiz  Umar Farooq and Muhammad Yasin Malik in a brief meeting held at Hyderpora Srinagar deliberated on the various dimensions of the "Operation Halt" announced by the Indian Home Ministry.
In a statement issued here , JRL while terming "Operation Halt" as a "cruel joke" with the freedom loving people of Kashmir, who are engaged in a legitimate movement for right to self-determination.
It said that the people of Kashmir as a peace loving nation believes in permanent peace rather than a relaxation in killing for one month.
"People want a permanent halt on war thrusted by India," it said.
JRL expressed its regrets that India instead of hearing the clear message of the people of Kashmir is "hell bent" to trample the genuine voice of the people by its military might.
The Leaders also blamed India of suffering with "arrogance of power" and out rightly rejecting the UN resolutions, legitimate and peaceful formula of "right to self-determination" or even the science of dialogue as a means of conflict resolution.
Terming the so-called operation halt as a "ploy to hoodwink" the public opinion on both national and international level, the JRL advised Indian authorities to shun arrogance and accept Kashmir as a dispute.
Declaration of one month's truce and sticking to a loud denial to solve the Kashmir dispute is a mere hypocrisy.
"It is highly illogical and unfortunate to offer relaxations in killings for one month and then restart it with impunity," it said.
JRL reiterated its appeal to the freedom loving people of Kashmir to make Lal Chowk chaloo a grand success in order to send a clear message to the Indian authorities that the people of Kashmir shall never compromise less than their right to self-determination.
JRL also appealed to shut all the business shops and offices on the occasion of Indian prime ministers proposed visit on 19 May 2018.