During the course of two-day Indian Premier League (IPL) auctions 2018, thousands of Kashmiris remained glued to their television screens, waiting anxiously for local t-20 dasher Manzoor Dar to get selected.
With his aggressive brand of cricket, Dar specializes in a popular version of cricket known as t-20 format.
In the history of the IPL auctions, it was only the second time that Kashmiri fans were watching the auctions enthusiastically.
The first time they did so was for the Pakistan star cricketer Shahid Afridi during the inaugural edition of the IPL.
This year, however, Kashmiri fans wanted their own version of Shahid Afridi in the cash rich IPL.
Yes, Manzoor Dar aka Pandav.
After waiting for two days, Manzoor became the last player in the auction to be bought, ending up with former bollywood actor Preity Zinta owned franchisee Kings-XI Punjab.
Manzoor was bought for his base price INR 20 Lakh (2 million rupees).
As soon as Manzoor got picked in the 17-man squad of trendy Kings-XI Punjab, the news channels covered his selection in prime time sports bulletins.
Jammu and Kashmir Minister for Sports Imran Reza Ansari took to micro-blogging site Twitter to express his "joy". He posted a congratulatory message of with a picture with Dar  on his Twitter handle.
In another tweet, Ansari thanked IPL Rajiv Shukla for the selection of Dar, "I am personally thankful to Mr Rajiv Shukla chairman #IPL  who has been support for Kashmiri's today once again showed his commitment to what he says he does. A Big thanks Sir God bless you," he wrote on his twitter handle
Similarly, cricket enthusiasts from Kashmir also took to social media to telegraph their congratulatory messages over the selection of the 24-year-old aggressive batsman Pandav.
Those who had watched him hitting big sixes were counting days to see their star player hitting the white leather live on television. Others who hadn't seen him before wanted to see him on television. That was in early April.
Dar is one among Kashmir's few cricketers who draws crowds to cricket grounds in the restive Valley.
Yes, he is a crowd puller.
"The crowds swell up to thousands. When he gets out, the grounds bear a curfewed look. From south to north parts of Kashmir, everyone loves watching him hit the ball hard in the air and over the stands," says Aga Javaid Kazmi, a local cricketer.
Recalling one interesting anecdote, he says that once a large crowd had gathered in the ground in central Kashmir's Budgam district with the purpose to see Dar bat for long time.
"He (Manzoor Dar) hit the first ball out of the ground into the woods, it must have been a 120-metre long six. However, he was out the very next ball. Disappointed, the crowds left the ground. There was no spectator present after Dar's dismissal," he says.
Even before Dar's selection in the King-XI Punjab, Dar enjoyed some sort of celebrity hood among Kashmiris for his hitting prowess. Locals fans often compared him to legendary Shahid Afridi aka Boom Boom.
Today, as the IPL is nearing its end with just two matches for each team to play before the playoffs, Dar is yet to find a place in the playing 11 of his team.
This has not gone down too well with his fans in Kashmir.
Known for their wisecrack and bone-chilling humor, some of his fans ran campaigns on social media spaces over his non selection.
From fervent appeals to Dar for homecoming to jibes, some Kashmiri fans asked their batsman to "concentrate on farming".
Others alleged Dar was being  ignored for who he was "Return brother, you will  not be selected, if you were from another state. They may have picked  you," a message uploaded on one Facebook page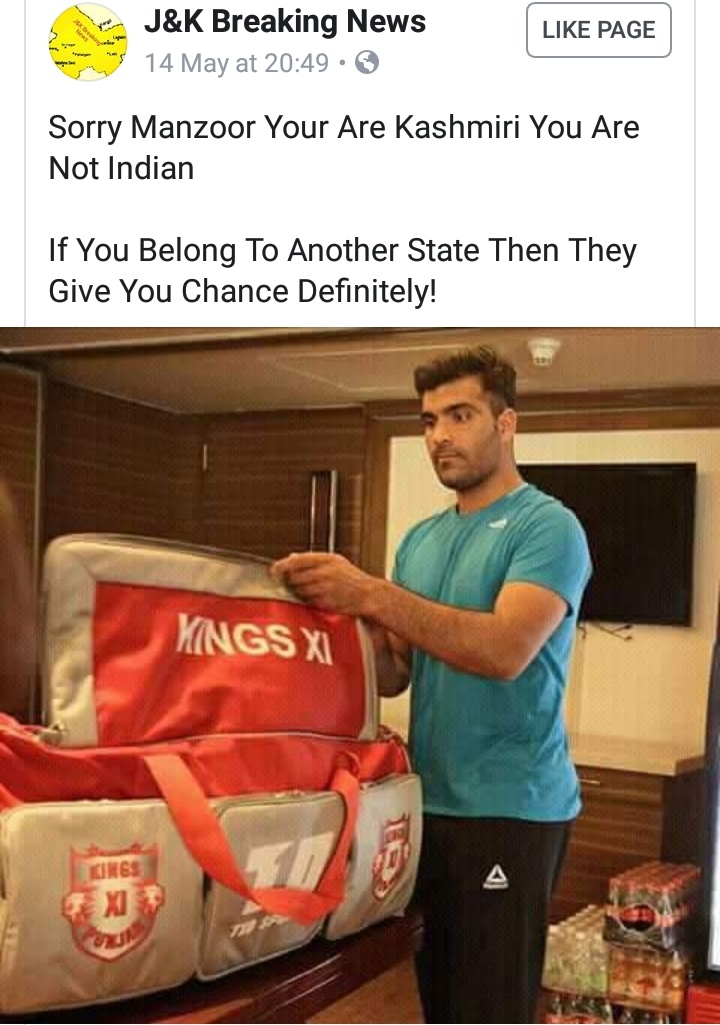 "Wala panas garre karo zameendari, (return home to do farming)", reads one picture doing rounds on social media.
"Justice for Manzoor Pandav," reads a placard held by an old man.
Being well versed with the game, Kashmiri fans expressed their frustration once performance of the KXIP deteriorated with the team losing four consecutive games.
A few took trolling to another level and made posts which could be compared to missing reports lodged usually in police stations.
In one such post by a page on Facebook named J&K Breaking News even attention of India's foreign minister Sushma Swaraj was drawn to help 'trace Manzoor Dar'.
"People of Jammu and Kashmir, missing report: Manzoor Dar from J&K who had to play in the IPL has unfortunately gone missing from 8/4/2018. Madam Sushma Swaraj, kindly help in getting him back home safely. He was last seen with Priety Zinta," reads a post with a picture of Dar and Zinta.
This post drew mixed reactions.
While some trolled Dar, others were more sympathetic toward the cricketer.
"He has earned a lot of experience and just sharing dressing room with greats like Gayle and Yuvraj will be immensely helpful," reads a reply on the same post.
"He is serving drinks and has earned a job of massaging players," reads another response.
Apart from social media, one finds mention of Dar even in cafes and the shop fronts.
Senior Ranji cricketer Samiullah Beigh is among those who feels Manzoor will gain immensely from the experience at the IPL.
"Just sharing the dressing room with international stars is an achievement (for Dar). I am hopeful that he might get a chance to play eventually," he tells The Kashmir Post.
Sports Scribe Tahir Ibn Manzoor is of the view that Manzoor could have proved a dark horse for Kings XI Punjab a la Afghanistan's Mujeeb who did well for his IPL team,  "Being an unknown commodity, Manzoor could have proved handy with his all-round skills," he argues
He adds that Dar deserved a place in the playing-XI of a team that looks down and out and needs injection of the youth in the middle-order.
Rameez Dar, Manzoor's brother, feels proud of his brother's achievement and is optimistic that he will get to play in the IPL one day.
"He (Dar) is young. And there is a lot to come," he says.