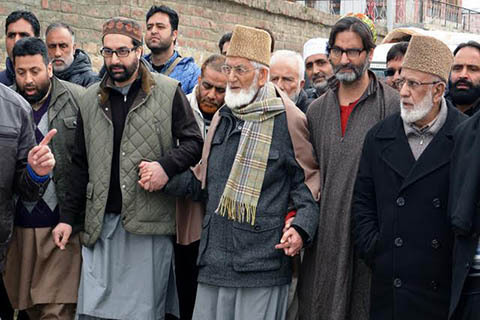 Ahead of Prime Minister's visit to valley, the Joint Resistance leadership (JRL) on Tuesday issued a valley wide strike call on his visit and asked the people for "Lal-chowk Chalo" on May 19.
The joint Resistance Leadership comprising of Syed Ali Geelani, Mirwaiz Umar Farooq and Muhammad Yasin Malik, said that the proposed visit of Indian premier is aimed to "deceive the opinion" of international community.
The prime minister is expected to visit Kashmir on May 19 to inaugurate the developmental projects in Kashmir.
JRL alleged hat a "fascist government in power" is trying to paint their 'wrong doings' and 'killings' and arranging these patch works and visits of their masters.
"It is their ploy to give wrong impression of brutal pacification of Kashmir as peace and return of normalcy".
"The people must stage protest against the brutal forces on the innocent Kashmiri people," they said.
"Lal-chowk Chalo will highlight the miseries and hardships faced by the people of Kashmir at the hands of oppressive forces," it said.
The JRL said it will also highlight the reign of terror unleashed by Indian forces and it is also aimed to show solidarity with the families who lost their and kids in South Kashmir.
"The Indian state and its abettors in Jammu Kashmir have put almost all the leadership either in jails or under house arrest. And they are trying to suppress the people by using military might".
While blaming Indian forces for turning whole state into a battle field, the leadership said that innocent people are detained on frivolous charges and youth are being pushed to the wall.
They added that such undemocratic and inhuman situation can't be tolerated for long.
JRL said that forcing silence of a graveyard by using military might and designating it as peace can only be termed as foolishness and if Indian rulers and their abettors really believe in democracy and freedom of speech, they should stop their oppressive tactics and allow JRL to hold this peaceful protest.
"India and its stooges only know to suppress people's voices under the pretext of so-called democracy and normalcy which is highly condemnable," it added.
The leadership decided to form a six member committee so that mechanisms for public participation in getting ideas and inputs and in decision making and implementation will be created.
All segments of public including writers' intellectuals, traders, chambers of commerce, transporters teachers lawyers, doctors' students activists will be made a part of the broad based mechanism.