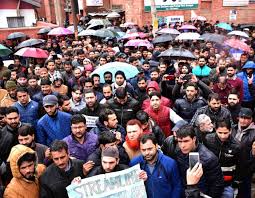 Hundreds of Rehbar-e-Taleem (ReT) teachers on Monday protested here in Srinagar and demanded fulfillment of their long pending demands including streamlining of their salaries as the government has failed to release salaries for four months.
The teachers under the aegis of Jammu Kashmir Rehbar-e-Taleem Teachers Forum assembled at pratab Park here and were led by Chairman Farooq Ahmad Tantray. Shouting slogans in favour of their demands and against State Government, the protesters demanded the release of salaries of 45,000 teachers working under SSA and RMSA.
On the occasion, ReT teachers warned the Government of prolonged agitation if their demands are not met. "Our 41, 000 teachers are without salaries from last six months but the attitude of Government and Education Minister is condemnable. We won't bow down before Government nor will we sit silent," they said.
They also demanded regularization of ReT teachers who have completed their five-year term, they also demanded to delink their salaries , when they were trying to march towards secretariat, police use full might including water canons & disperse the mob , later police arrested many RET's.
The government is humiliating the nation builders," they said, adding "whenever the teachers raise a voice in favour of their demands the government rakes up the screening test issue."