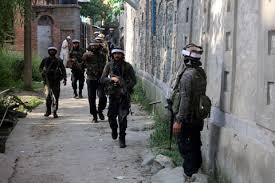 Several gunshots were heard on Srinagar-Jammu highway at Awantipora in South Kashmir, during the intervening night of Thursday and Friday.
Sources said that at the intitial few gunshots were herad. However intense exchange of firing were heard later.
Following the gunshots, a cordon-and-search-operations were laid in the area which lasted for whole night.
"However, CASO ended peacefully," officials said.
Polivce officials said that the militants fired on forces' late night and fled away. "No injuries were reported," police added.