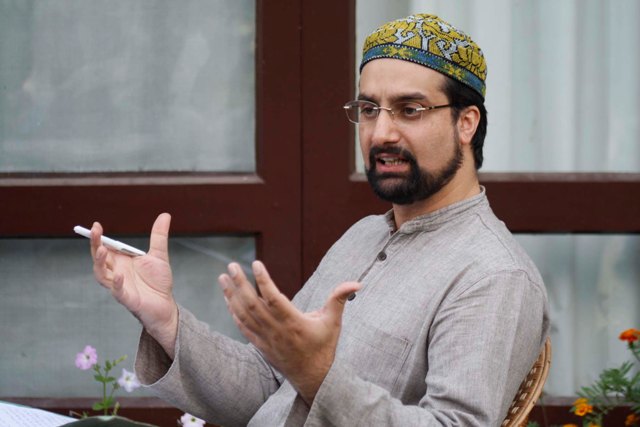 Hurriyat (M) Chairman Mirwaiz Umar Farooq said that the "All-pro India Parties Meeting" convened by Chief minister Mehbooba Mufti is nothing more than a farce to mislead people into believing that they are serious or can do something to bring people out of the current oppressive state.
In a statement issued here, Mirwaiz said the fact remains that it is these very parties and people who are responsible for our misery and massacres and the extreme repressive situation that we are facing for the past seventy years in general and thirty years in particular.
"Our suffering is an outcome of the draconian laws and legislation put in place here by New Delhi with the full cooperation and support of these pro-India parties," Mirwaiz said
"Over the years these parties kept yielding our sovereignty and compromising on our status before New Delhi for the sake of chair," he added.
He said Kashmir has become a colony of India with over seven lakh Indian troops stationed here ensuring forcible control through military might resulting in severe repression on people.
"And these parties, who willingly preside over that repression for the sake of chair that has no power as all power rests with New Delhi, want us to believe that their meetings will bring us relief!," he said
Mirwaiz said when all space for the expression of dissent is choked and gagged, as in Kashmir, youth feel forced to turn to violent means.
"When these young boys are killed by the forces and police as in Shopian their bosses condone and congratulate the forces. And when young civilians are killed, there is silence, not even an FIR is filed anywhere for killing of seven innocent youth which includes the one who was mowed to death by an armoured vehicle," he added .
Mirwaiz questioned as to who is responsible and accountable for spilling of their blood ?
He said if these parties are really serious and mean business then all the black laws should be revoked forthwith and the force's personnel responsible for the massacre of innocent youth should be brought to justice.
Mirwaiz said that the situation in Kashmir is so fragile and worrisome that in just two months forces have killed 32 civilians mostly youth while scores have been blinded and maimed by the deadly pellets and pava shells.
He said for the resistance camp, all means of peaceful protests and political space has been closed.
Mirwaiz asked those in chair that how long will they continue to follow the diktats of New Delhi and preside over the massacres of Kashmiris?