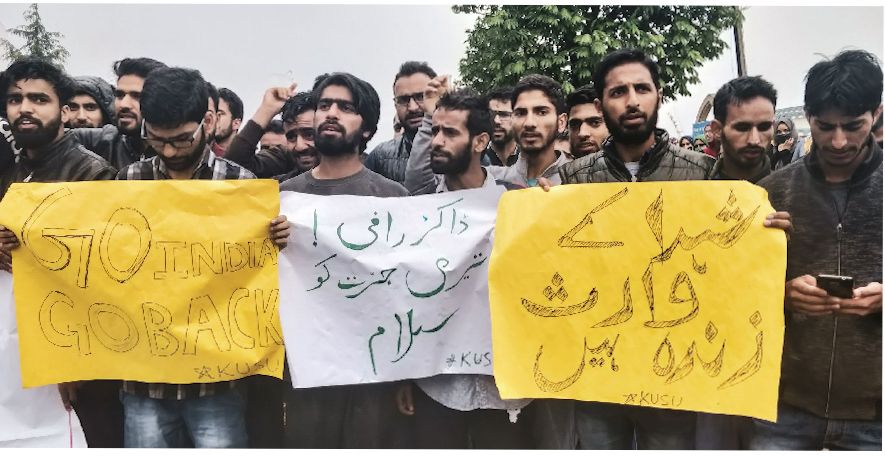 Hundreds of KU student staged demonstration to protest the killing of Assistant professorHundreds of Kashmir University (KU) students including girls on Sunday marched through the campus to protest the killing of Assistant professor, Dr Rafi Bhat.
Raising slogans in favour of Pakistan, Azadi and against India, the students also offered funeral prayers in-absentia for the slain scholar and assistant professor.
Rafi was killed by the government forces in an encounter along with top Hizbul Mujahideen commander Saddam Padder earlier today in Badigam village of Shopian district.
The slain had gone missing on Friday afternoon from the University campus.
Students had assembled outside the Allama Iqbal library and offered funeral prayers.
Those who participated in the prayers included students, scholars and some faculty members.
The students, scholars and faculty members unanimously declared that they will visit the residence of the slain Assistant Professor on Monday and Tuesday and pay tributes to him.
"We decided that we will visit Dr Rafi's residence for the two consecutive days on Monday and Tuesday to express sympathy with the family of Rafi and pay glowing tributes to him," a scholar told Kashmir Reader.
A student who participated in the funeral prayers said that it was decided that the students, scholars and faculty members including females will hold a massive congregation on Wednesday when the university will resume the routine.
The University administration has ordered suspension of class work in the varsity on Monday and Tuesday while examinations scheduled have been postponed.
"As and when the university resumes the routine, we will hold a massive rally in the university campus in honour of Dr Rafi," a student said.
Dr Rafi joined militant ranks purportedly on Friday after he went missing.
He was trapped early today in an encounter along with Saddam Padder, the top Hizb commander and longest surviving militant of Burhan Wani group, Bilal Mohand, Adil Ahmad and Sheikh Tauseef.
All the five were killed by the government forces after the house they were staying in was cordoned off by the forces.