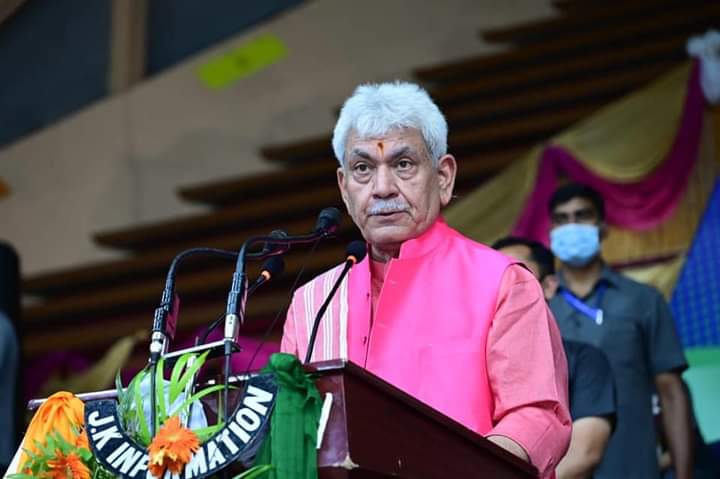 Sonmarg (Ganderbal), Aug 14: Jammu and Kashmir's Lieutenant Governor Manoj Sinha Thursday said that three-decades long conflict in Kashmir was a "business for some people" who filled their own coffers while common man was left to suffer on all fronts.
He, however, was quick to add that Security Forces are putting the last nail in the "coffin of terrorism and dismantling entire terror-ecosystem to make the peace a permanent feature".
Addressing a gathering after inaugurating the Golden Glory Eco Park at Sonmarg and other events under Meeri Maati Mera Desh, the LG said that conflict tag on the face of Kashmir for three long decades was actually a "great business opportunity" for some people whose first preference was to fill their own pockets while a common man was left suffer on all fronts.
"Now, security forces are putting in their entire energy to push the last nail in the coffin of terrorism. Terror Eco-System is being dismantled fully to make peace a permanent feature in J&K," the LG said. He said that people of J&K have a right to live a free life and a life of their choice. "Gone are the days when they were asked to live the life on the directions of others. Some people want to revive street violence to get back into the business, but their plans will be scuttled on all fronts," he said. "Today, separatism, terrorism and street violence is a thing of the past."
He said that a poor man has a first right on every government scheme. "I don't know why some people felt pain in their stomachs when we announced land for landless. In the first phase, 2711 people were provided land under the PMAY scheme. Home is not just a home for the poor but a beginning of a long journey of fulfilling dreams," he said, as per KNO, adding that "8000 more people of whom majority are Bakerwals are eligible for the land for the landless. If some people feel pain in their stomachs, they will have to bear that pain."
He said that this year so far, 10 lakh tourists visited Sonmarg and Ganderbal. "There were 130 home stays available in the district. Home stays provided a great opportunity for the people of Ganderbal to earn a living," the LG said. He said that lakhs of Amarnath Yatris were hosted by the people of Ganderbal. "I want to put it on record that all Amarnath pilgrims went back with a message of brotherhood, peace and harmony," the LG said. He also said that Ganderbal is touching new heights in development and peace.kno