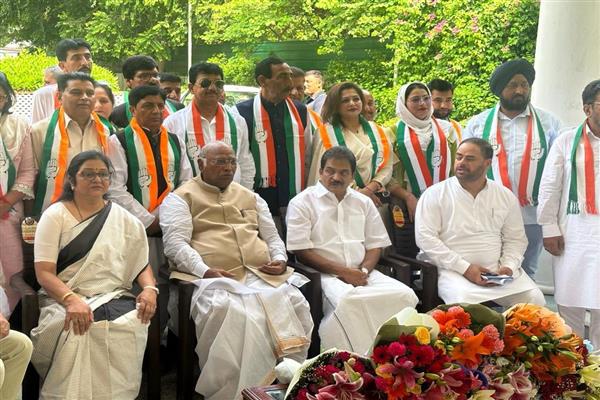 Srinagar, Aug 07: Over a dozen leaders including former legislators and bureaucrats from Jammu and Kashmir on Monday joined the Congress party in the presence of party chief Mallikarjun Kharge and other senior leaders in New Delhi.
As per details available, the leaders include former ministers and legislators who had earlier left the party and joined other parties in Jammu and Kashmir.
The leaders joined in the presence of Congress president Mallikarjun Kharge, General Secretary (Organisation) KC Venugopal and in charge J&K Rajani Patil.
The leaders include ex-minister Yashpal Kundal, former general secretary DPAP and two time legislator Haji Abdul Rashid Dar, former MLC Naresh K. Gupta, former MLC Sham Lal Bhagat, Namrata Sharma, DDC member Chadoora Saima Jan, Shahjehan Dar, former director SKUAST Prof. Farooq Ahmad, DDC member Suchitgarg Taranjit Singh Toni, former SMC commissioner Gazanfar Ali, Santosh Majotra, Rajni Sharma, Nirmal Singh Mehta, Madan Lal Chalotra, Hamit Singh Batti, Ramesh Pandotra, Vaid Raj Sharma, Mandeep Chowdhary, Nazir Ahmed Auqab, Maheshvar Vishwakarma and Jung Bahadur Sharma.
The joining of 21 leaders from J&K has come as a major boost to the party in the Union Territory as some of the leaders had earlier left the party.kns