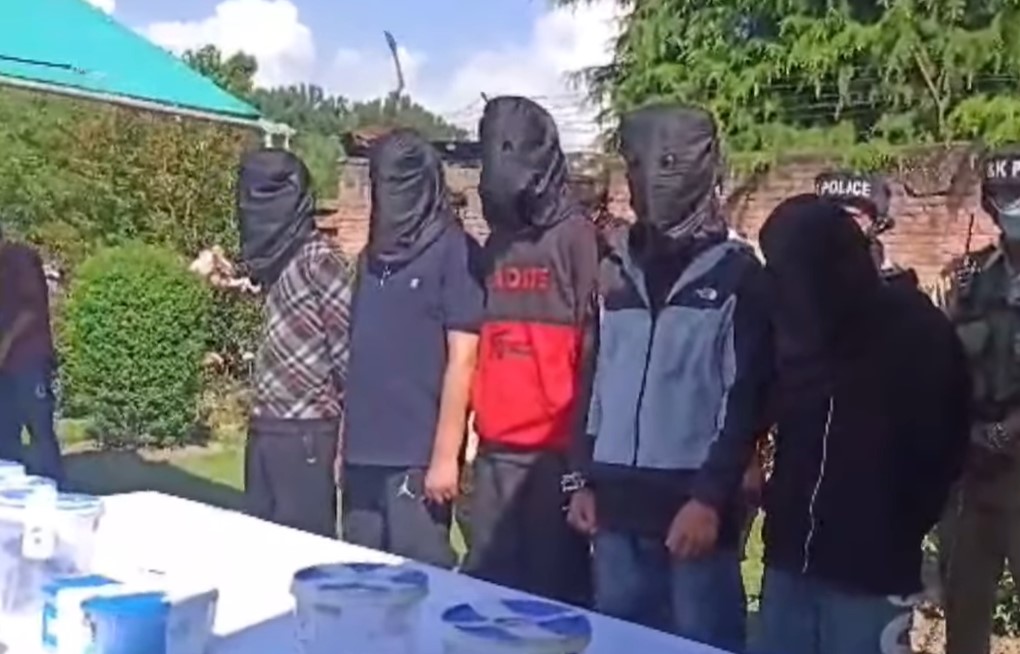 Srinagar, June 16: In a major breakthrough, Police on Friday claimed to have arrested five Jaish-i-Muhammad militants allegedly involved in the killing of labourer, Deepak Kumar of Udhampur, at Janglatmandi near Amusement Park Anantnag in south Kashmir 18 days ago.
Addressing a presser, DIG south Kashmir Rayees Mohammad Bhat said that on the evening of May 29 at 21:14 hours ,unknown gunmen borne on a scooty rode upto the amusement park near GMC Anantnag and with the assistance of their illegally procured arms and ammunition, fired upon the labourer namely Deepak Kumar alias Deepu of Thial-Panchayat Deot Bilaspur Udhampur, causing serious injuries to him.
Deepu was shifted to hospital GMC Anantnag by the labourers of the amusement park where doctors declared him brought dead. After the incident, he said, the attackers fled from the spot.
Upon this information, he said, police filed a case (FIR NO 171/2023) under section 7/27 I.A Act, 302 IPC 16,18,20,39 ULAP Act and set investigation into motion.
Subsequently, he said, a Special Investigation Team (SIT) was constituted on May 30, and the investigation was conducted and all possible technical, human and scientific evidence were collected to nab the involved accused.
Meanwhile, he said, two persons from Deva Colony got missing, namely Sehran Bashir Nadaf of Shirpora Deva Colony and Ubaid Nazir Laigroo of Shirpora New Colony. The missing of these two persons from Deva Colony near GMC-Anantnag, which is situated in close proximity to the incident spot was also considered by the investigation team and the technical and human data was analysed which led to reconstructing of the sequence of events, he said.
"Meanwhile police on 6 June 23 at about 2230 hours apprehended two suspect persons during Naka Checking at Semthan-Tulkhan Crossing. Their disclosure led to major breakthrough in the case and the accused persons involved in the commission of the crime were identified," he said. Their disclosure coupled with the scientific and technical data analysis led to the recoveries of arms ammunition and the scooty (JK03M-0442) "used in the commission of act", he said.
"The incriminating materials were recovered and seized in presence of the Executive Magistrate and two main accused persons associated with JeM/KFF outfit, who were involved in the commission of crime, were arrested."
Further investigation of the case established the identities of more accused persons who had provided "logistic support and had hatched a criminal conspiracy" with the co-accused, he said. Subsequently, he said, three more accused were arrested.
"It is pertinent to mention here that the accused persons were in contact with a JeM/KFF handler namely Khalid Kamran and the incident was carried out on his orders."
With the arrests and the recoveries made from them, he said, Police solved the murder case as well as succeeded in averting major attacks which these accused had been "tasked to carry out by their handler across the border." Further investigations are underway and more revelations are expected, he said.
The arrested accused person were identified by the DIG as Sehran Bashir Nadaf , Ubaid Nazir Laigroo , Umer Amin Thoker of Waghama, Huzaif Shabir Bhat of Wachi Shopian and Nasir Farooq Shah of Wanteng Mohalla Bijbehara
He also claimed recovery of one AK-47, its one Magazine and 40 Rounds besides two pistols, as many magazines, seven rounds, as many empty cartridges, three hand grenades, seven mobile phones and the Scooty. gns