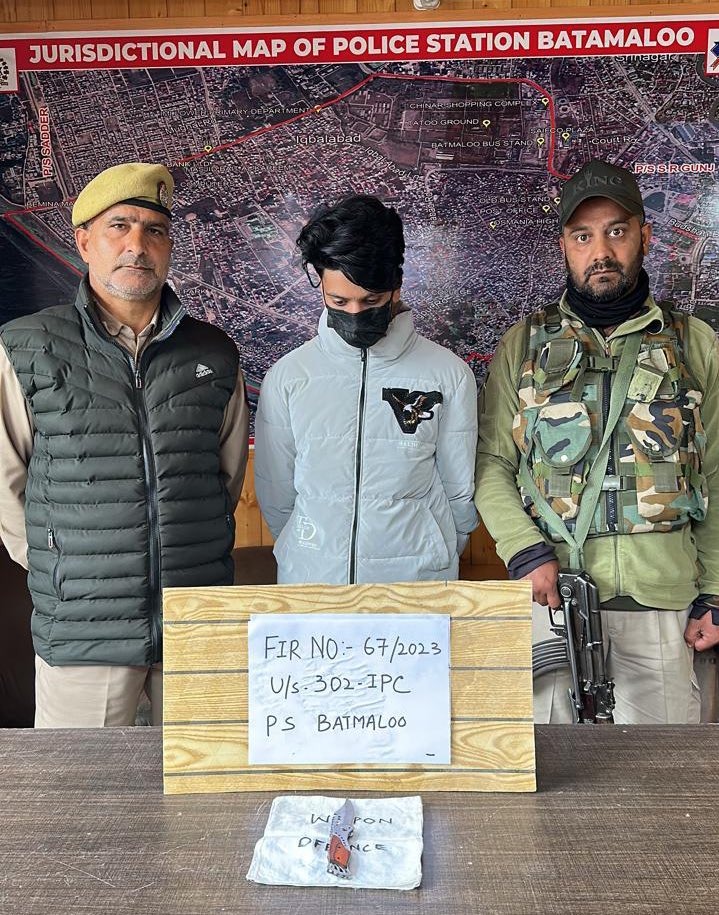 Srinagar, May 31: Jammu and Kashmir Police have arrested a teenage boy accused of having stabbed to death a man after being rebuked by the latter over 'romantic relationship' with his daughter. The incident reportedly took place at Batamaloo in central Kashmir's Srinagar district on Tuesday evening.
The victim, a 45-year-old, identified as Aijaz Ahmad Bhat (45), son of Gh Rasool Bhat of Mominabad Batamaloo was allegedly stabbed to death by the teenage boy Dar Iron Traders at by-pass Batamaloo.
Upon reporting of the incident, Jammu and Kashmir Police lodged an FIR and subsequently started investigations to bring the culprit to justice.
The police zeroed in on the accused within hours as they arrested the culprit during the night hours only.
Detailing out the circumstances pertaining to the incident, Superintendent of Police South Srinagar, Gaurav Sikarwar, addressing a presser,  said they have solved a blind murder case by arresting an accused. The Police officer revealed the accused was in sort of a 'relationship' with the victim's daughter.
"As the incident was reported, a case under FIR number 67/2023 was registered, following which CCTV footage of the incident site was analysed and some suspects rounded up for questioning", the officer said.
"Upon persistent questioning, we zeroed in on a suspect who confessed to the crime", he said adding the accused said he killed the man as revenge as the latter opposed his 'relationship' with his daughter.
"The case was cracked within hours as the accused was arrested at 2:00 AM in the night and the blood stained shirt, trouser and the knife used in the crime were also recovered," he said.
The Police in a separate statement said that one juvenile (name withheld) has been arrested for murder in broad daylight in Batmaloo yesterday.
"He was having romantic interest in daughter of victim. As he is above 16 years and offence is heinous, petition will be filed in court to treat him as adult as per section 15 of JJ act 2015", reads the statement.