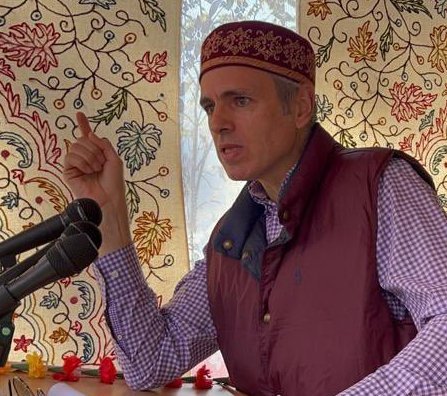 Srinagar Mar 16 : National Conference (NC) Vice President Omar Abdullah on Thursday said that BJP was frightened to face people in elections.
He made these remarks while addressing  a one day workers' convention at Aarigam, Khansahib in Budgam.
Addressing the functionaries, Omar said that it was imperative for workers to strengthen NC, which he asserted was the only party working to stop the caravan of BJP.
He further said that if people are happy with exorbitant taxation, soaring unemployment and demolition drive, then they should vote for the BJP.
"If you want an end to unemployment, anti people, anti J&K actions, then you should strengthen NC on ground. While other parties, the A and B teams have accepted the decisions of August, 2019, it's NC which is striving for the restoration of our people's pride, their land, cultural, democratic, constitutional and fundamental rights," he said.
Governments actions, he said are light years away from healing the wounds of people. "The lands which were given to people by Sheikh sahib are being snatched away. Our resources, Jobs being out sourced," he said.
Questioning the government claims of ushering in employment extravaganza in J&K, he said what was claimed is not visible on ground.
"Where are those thousands of jobs? Where is that promised investment? All the promises have ringed hollow and miserably failed to live up to it's hype. No even a day passes, when one or the other selection list ends up in a scandal."
"As far as tourism sector is concerned, we had vacated the meadows from security forces, since then their has been no headway in bringing the area on the tourist map of region and country," Omar said adding, "Locals wouldn't benefit in wake of such process. Had government given them easy loans for establishment of restaurants, and hotels, the economic condition of the area would have been different. However nothing has been done to improve the economic condition of my brothers and sisters living around the meadow."
On the issue of APTECH, he questioned why the government was giving contract to an agency which had a tainted past and was blacklisted in other states of the country
The meeting was convened by Party's senior leader and In Charge constituency Khansahib Advocate Saif Ud Din Bhat.
Party General Secretary Ali Muhammad Sagar, Provincial President Nasir Aslam Wani, Senior leader Abdul Rahim Rather, Central Zone President Ali Muhammad Dar, Political Advisor to VP Mudassar Shahmiri, and Dr. Muhammad Shafi also addressed the gathering. Among others parent body, YNC and local block unit functionaries, workers and delegates were also present on the occasion.