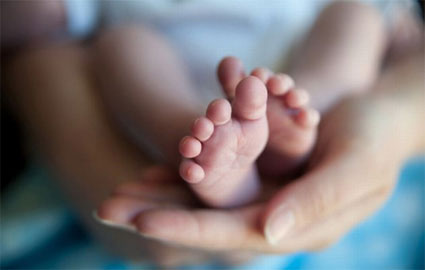 Kulgam, Feb 04 The snow-covered roads in one of the villages in Kulgam district has claimed a life as the pregnant lady could not reach the hospital on time to give birth to her baby on Saturday.
Reports  said that a pregnant woman gave birth to a dead infant as due to the choked roads post snowfall; she was taken to hospital on a stretcher for four kilometers from Hallan to Manzgam village in Kulgam district.
Several villagers shouldered the woman on a cot due to a non-motorable road from Hallan to Manzgam. The woman identified as Sakeen Bano from Hallan later gave birth to the dead infant as she couldn't reach the hospital on time.
Her family members even called the helpline number 102 for ambulance services repeatedly but to no avail. The villagers later decided to carry her in a makeshift cot to the hospital, which is around four kilometers away from the village.
Gulzar Ahmad, her husband said that they had to walk by foot almost four kilometers from Hallan to Mazgam. "It took us two hours to reach the hospital, as the snow has not been cleared from the roads in the village," he said.
He said after reaching the hospital his wife delivered a dead infant as they failed to reach the hospital on time.
Block Medical Officer (BMO), Damhal Hanjipora, Gulzar Ahmad Dar said that the road is not motorable and thus was not possible for ambulance to reach the village.
"We have provided them an ambulance from half way to reach the hospital," he said, adding that the baby died of Intrauterine Death (IUD).
The locals urged authorities to make roads leading to the inhabitation motorable to avoid any difficulty to the patients and commoners alike in the immediate future.
Despite repeated attempts, Assistant Executive Engineer (PMGSY) didn't receive the phone calls from this reporter.
However, Tehsildar DH Pora, Rouf Ahmad Lone said  the roads from Hallan-Manzgam have been cleared, but stated that the roads have been cleared completely to ensure that road is not damaged with JCB.
"We have been sending vehicles to many pregnant women and sick people during snow spell in the area," he said.kno