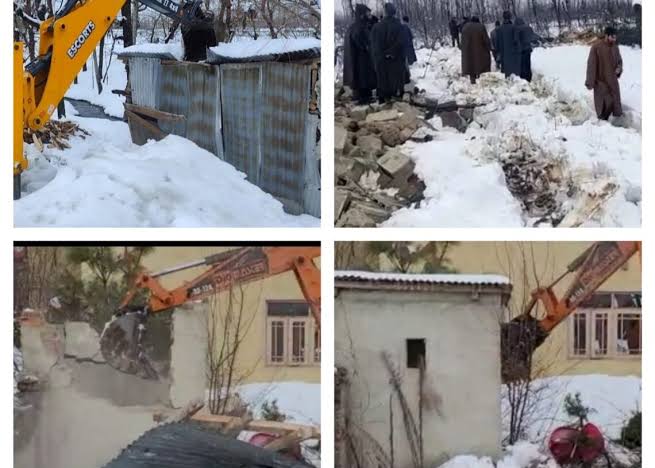 Srinagar, Jan 31: In a move to free the government land from occupants, the officials said they have retrieved state land from Nedous hotel Srinagar and other influential including two ex-ministers in South Kashmir.
Tehsildar South Moin Kakroo said that 40 kanals state land illegally occupied by Nedous Hotel owner has been retrieved at M A Road here while 12 kanals state land was retrieved at Karan Nagar.
He added that a total of 52 kanals state land has been retrieved today by the revenue department.
The Jammu & Kashmir administration also retrieved land from two former ministers and heirs of a former chief minister in south Kashmir's Anantnag district.
Details reveal that J&K government retrieved land illegally occupied by Peerzada Muhammad Sayeed (former minister), family of Farooq Andrabi (Peoples Democratic Party) and heirs of Mir Qasim, former CM of Jammu & Kashmir, in Dooru area of Anantnag district.
At Arad Khoshipora, one Kanal of Kahcharie land under the occupation of Peerzada Muhammad Sayeed was retrieved. The outer wall of his premises which had been constructed on Kahcharie land has been demolished.
"Notices for removing the encroachments had been issued to the former minister but he didn't respond to them," sources in government disclosed.
Sayeed is associated with Congress.
According to government sources, the family of Syed Farooq Andrabi, former legislator from Dooru, had encroached upon 2 kanals and 7 marlas of Shamilat land by way of orchards at Shistergam. The same land has been retrieved and notice boards indicating the status of land have been installed on the site.
Andrabi is close relative of former CM Mehbooba Mufti.
According to sources, the authorities also retrieved 15 Kanals of Shamilat lands which had been occupied by the heirs of Syed Mir Qasim, former chief minister of the erstwhile state of Jammu and Kashmir.
It is in place to mention that the encroachers had established an orchard at the site which was being used to earn income by utilizing public property.
A senior revenue official said that on the express directions of Deputy Commissioner Anantnag, encroachments by influential encroachers are being identified and anybody found encroaching on State / Shamilat lands will be taken to task. He said that several such influential encroachers have been identified and the drive will continue.kno
Later in a press statement the District Administration Srinagar said it has  launched massive scale anti-encroachment operations in all Tehsils of District to evict Government Land from the illegal occupants and retrieved over 494 kanals of prime land worth ₹ 509 crores from land grabbers. Besides 2 hotels were also sealed.
Special Anti-encroachment squads constituted by District Administration Srinagar were headed by Tehsildars who conducted mass scale anti encroachment drives while taking assistance of Police and other departments.
A team of Revenue and Police Officers/Officials headed by Tehsildar Eidgah, Ishfaq Ahamd Khan launched a massive anti-encroachment drive in Palpora area and retrieved over 50 kanals of State land from the land grabbers.
Similarly, in a major anti-encroachment drive launched at Balhama and Khonmoh under the supervision of Tehsildar Pantha Chowk, Rakib Ahmad as many as 25 kanals of Kacharie land was retrieved. In addition, 27 kanals and 12 marlas of State land was also evicted from the encroachment.
Likewise, in Tehsil North, 36 kanals of Kacharie land was retrieved in Rakh e Zakura and 26 kanals of State land in Ahal area respectively. Similarly, in Khimber 5 kanal 10 marla Kachraie land and 10 marlas of State land was also retrieved by a Revenue Team headed by Tehsildar North, Kaiser Mehmood.
In South Tehsil of the District, a team headed by Tehsildar, Moean Azhar conducted a massive anti-encroachment drive and retrieved over 40 kanals of State land in Maisuma 8 kanals in Nursing Garh areas from the encroachers.
The team also evicted 4 kanals of prime land in Tashwan halqa of the Tehsil.
Similarly, in Khushipora area of Central Shalteng Tehsil over 12 kanals of Kahcharie land and 6 kanals of State land has been evicted in Rakh eGund Aksha areas.
In Chanapora Tehsil over 250 kanals of Kahcharie land was also evicted from land grabbers in Estate Nowgam area under the supervision of Tehsildar Chanpora, Saqib Saleem.
In Khanyar Tehsil 2 hotels namely Hotel In and Hotel Goodwill Commercial cum residential Hotel constructed illegally over 1 Kanals and 11 marlas of land in Brari Nambal were sealed and taken in possession under the supervision of Tehsildar Khanyar Aailya Tabasum.
Pertinent to mention that LG Administration has clearly said that common masses and poor people wouldn't be touched during the ongoing encroachment drive launched to retrieve state land from encroachers. It has been also said in the statement that the government is concerned to safeguard the interests of poor people and only those who have illegally occupied the Government land by using their positions will be dealt strictly. Accordingly District Administrations have been stressed to launch anti encroachment drives to retrieve land from encroacher so that all Government land is evicted from the illegal occupants.
Meanwhile, the Deputy Commissioner Srinagar has lauded the efforts of the concerned Tehsildars and their teams, the Deputy Commissioner asked them to continue the anti-encroachment drives in their respective jurisdictions as per standing instructions with added zeal and dedication so that all State/Kahcharie land is retrieved.