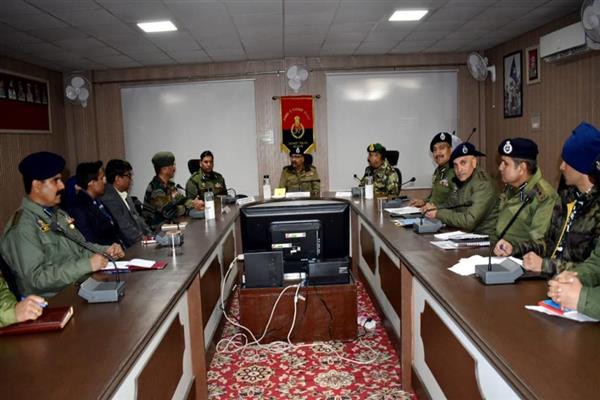 Jammu, January 24: Director General of Police (DGP), J&K Dilbag Singh today visited Rajouri, where he chaired a high level meeting of Army, Police and CRPF officers to review the security scenario of the District.
The DGP was accompanied by ADGP Jammu Zone, Shri Mukesh Singh.
Addressing the meeting, the DGP sought the progress of investigation regarding the Dhangri incident and directed for looking at all the angles and work out involvement of all the anti National elements and terrorists involved in this heinous crime.
He emphasized on utilizing modern technology and human intelligence to monitor the suspect movements on borders and as also in the hinterland to prevent anti-peace incidents.
DGP directed for intensifying the operations with all might to track down the involved militants.
"He also directed for stringent action against each and every individual who has provided any support to terrorists in executing the cowardly attack," a press statement said..
The DGP directed for further strengthening the security grid by conducting Naka checking and joint patrolling besides ensuring the area domination. He stressed for following SOPs laid down in this context. He stressed for keeping strict surveillance on cross border narco trade saying that "elements from across the borders are using it for terror financing besides targeting youth of Jammu and Kashmir".
The DGP directed for strict action against the element found involved in anti-peace activities and narco-trade.
Besides ADGP Jammu Zone Mukesh Singh the meeting was attended by GOC 25 Division Major General Shri Y S Ahlawat, GOC Romeo Force Mohit Trivedi, Senior intelligence officers, DIG Rajouri-Poonch Range, Dr. Haseeb Mughal, SSP Rajouri Mohammad Aslam, SSP Poonch Rohit Baskotra, CO IRP 2nd Bn. Randeep Kumar, 2 I/C CO 72 Bn CRPF, ASP Rajouri and all gazetted officers of the district.