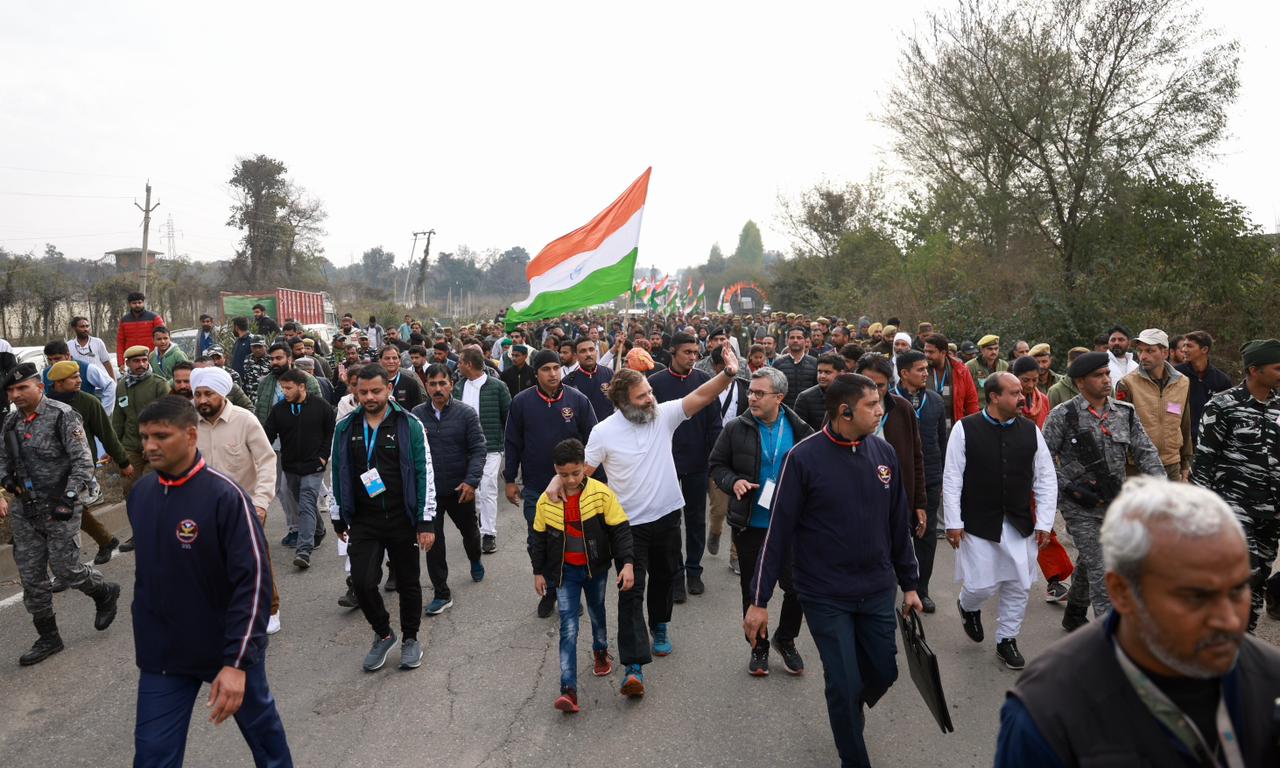 Jammu, Jan 23: On the 129th day of Bharat Jodo Yatra, Congress leader and Member Parliament Rahul Gandhi Monday said that demand for statehood is Jammu and Kashmir's biggest issue and the Congress party will use "full power" to get it restored.
"I have covered more than 3000 kilometers. During the yatra in Jammu and Kashmir, I have met a cross section of people from the last few days and let me tell you that during my conversation with them, I was informed that statehood for J&K is the biggest issue along with the highest level of unemployment in the country," Rahul said, addressing a gathering at Satwari Chowk in Jammu. He told the gathering that Congress party will fully support "you and your statehood demand."
"To restore the statehood, we (Congress) will use our full power to get back the statehood as soon as possible," Rahul said. "Statehood is your (people of J&K) biggest issue. There is no big issue as big as statehood. Your right has been snatched. Cross section of people from J&K during this yatra raised their concerns."
Rahul said: "People told me, which I am sharing with you, that their voices are not being heard by the administration. Earlier native people have say in administration and trader but now entire trade is being run by outsiders and people of J&K watch them sitting haplessly."
He further said that Jammu and Kashmir has the highest level of unemployment in the country.
"Youngsters aspire to become engineers, doctors and lawyers but they find they cannot because of lack of opportunities," he said.
On unemployment:
Youth of the country looked towards the Army for serving the nation as well a great source of employment but BJP came with Agniveer trying to destroy "this intuition."
He said: "People need at least 7-8 years to learn and expertise in any trade or skill. It also applies to the army too, but BJP people don't understand the ethos of the army."
Rahul said: "Training of soldiers is a lifelong process but they (BJP) thinks that in six months they will train a soldier. Agniveer would weaken the forces but unfortunately BJP doesn't understand this."
He said the doors of recruitment in the army are almost closed, earlier for 15 years of service, the country assured soldiers for good rehabilitation with pension and other benefits but now for four year service with no provision of pension is there for Agniveers.
Rahul further said that the government is working for 2-3 big industrialists and trying to destroy Small and Medium Scale Business, which is the backbone of a country's economic growth.
"Nation's wealth is going to 3-4 big business units and leftover citizens are experiencing the brunt of unemployment and inflation," he said, "The wrong implementation of GST, demonetization is worsening the condition of small scale traders".
He said that, "Earlier petrol price was around Rs 50 but now it touching Rs 100, similar to a gas cylinder and these extra bucks are going to 2-3 big industrialists."
On Kashmir Pandits
Rahul Gandhi said that Pandits are facing injustice at the hands of the government and asked Jammu and Kashmir Lieutenant Governor Manoj Sinha to apologise to the community for telling the prime minister's package employees that they should not seek alms.
He said that a Kashmiri Pandit delegation called on him during his Bharat Jodo Yatra in Samba district earlier in the day and briefed him about their various issues including "targeted killings" by terrorists and the resultant protest by those employed under the prime minister's package.
"Injustice is being meted to Kashmir Pandits by this government…this morning, a delegation of Kashmiri Pandits met me and briefed me about their issues. I was surprised to know that their delegation was told by the lieutenant governor that they should not seek alms."
Rahul said he wanted to tell the lieutenant governor that they are not demanding alms but are seeking their rights. "You (LG) should seek forgiveness from them (Pandits)."
Earlier, Rahul said that yatra has been started from Kanyakumari and "we learned a lot during this period. Every state teaches us a lot and it."
"We tried to raise issues of demonization, wrong GST, farmer bills, China's incursion, unemployment in the parliament but we were not allowed and our mikes were turned off, it's now only us but media should also contribute in protecting democracy," he said, adding, "I wish in-stead of talking about bollywood stars they should raise issues of unemployment, price rise etc, which is affecting the poor population of nation."— kno