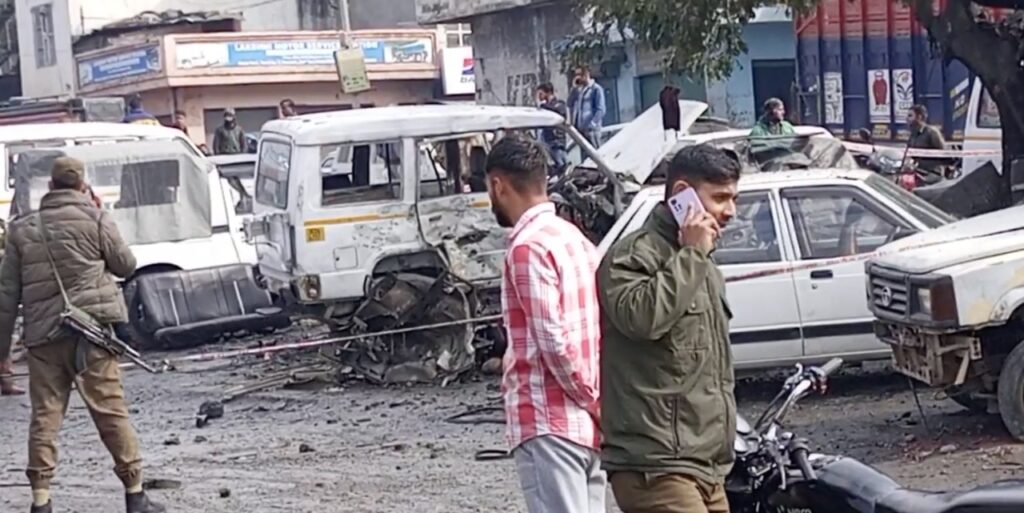 Jammu, Jan 21: At least six civilians were injured in twin mysterious blasts in Narwal area of Jammu district on Saturday just four days ahead of the Republic Day and scheduled Rahul Gandhi led Bharat Jodo Yatra, police said here.
An official said  that two back to back blast occurred near in the bus yard of Transport Nagar in Narwal today morning.
He said in the twin blast sic civilians were injured and they have been evacuated to a nearby hospital for treatment.
Meanwhile, additional director general of Police Jammu, Mukesh Singh also confirmed the incident and said 6 people have been injured.
Following the incident, police, bomb disposal squad and forensic experts reached to the spot.
"The nature was the blast was not yet known, while the matter is being investigation," said the official.
He said massive searches have been launcher in the area, while special checkpoints have also been set up on different routes.
The blasts took place even as security forces are on high alert in view of Rahul Gandhi's Bharat Jodo Yatra and the upcoming Republic Day.
Jammu and Kashmir Lieutenant Governor, Manoj Sinha condemned twin blasts that took place in Narwal area.
In a statement, a spokesperson said senior police officials have briefed the Lt Governor about the blast and on the state of investigation.
As per the statement he called for urgent steps to identify and take action against those responsible.
"Such dastardly acts highlight the desperation and cowardice of those responsible. Take immediate and firm action. No efforts should be spared to bring the perpetrators to justice," the Lt Governor told the security officials.
He has offered heartfelt sympathies to those injured and also announced relief of Rs. 50,000 to those injured in the incident.
He said that the administration would ensure best possible treatment and extend every help required by the families. kno