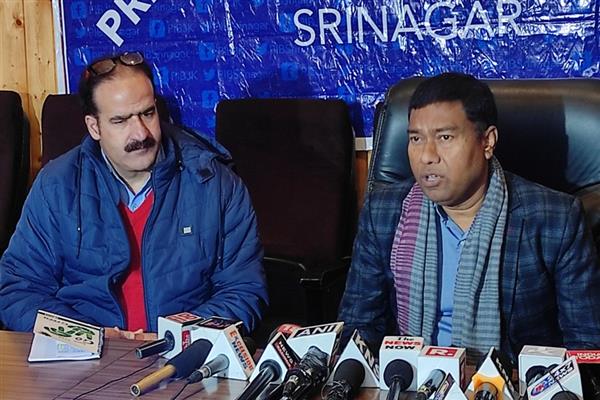 Srinagar, Nov 18: Union Minister of State for Labour & Employment, Petroleum and Natural Gas, Rameshwar Teli on Friday said the government is making all-out efforts to tackle the problem of unemployment for which e-SHRAM cards are being issued besides providing loans on zero-interest basis. The minister also said that there should be an end to child labour in Jammu & Kashmir and other parts of the country.
The Union MoS while addressing the media persons here at Tagore Hall, highlighted the government's developmental initiatives and schemes in J&K and said that work on various projects is going on at full pace in the Union Territory.
He said the Union Government under Prime Minister Narendra Modi is taking every possible step to create employment opportunities for the youth of Jammu & Kashmir for which e-SHRAM cards are being issued. He asked the unorganised workers to register for e-SHRAM cards and benefit from the scheme.
"The government aspires to complete the target of issuing 38 crore e-SHRAM cards in the country of which 30 crore cards are already issued," he said.
The minister further said that loans on zero interest are being provided to youth so that they "stand on their own feet" by starting business ventures, thereby curbing unemployment.
He also mentioned the Ujjwala scheme saying the subsidy of Rs 200 in Pradhan Mantri Ujjwala Yojana (PMUY) is only in Jammu and Kashmir. "The people of UP or Delhi do not get these benefits," he said.
When asked about child labour prevalent in the Union Terriotry, the Union MoS for Labour & Employment said the problem exists across the country. "We must be serious in this regard and corrective measures need to be taken to end the practice. The issue must be highlighted and those involved in it must be exposed so that action is taken against them," he said.