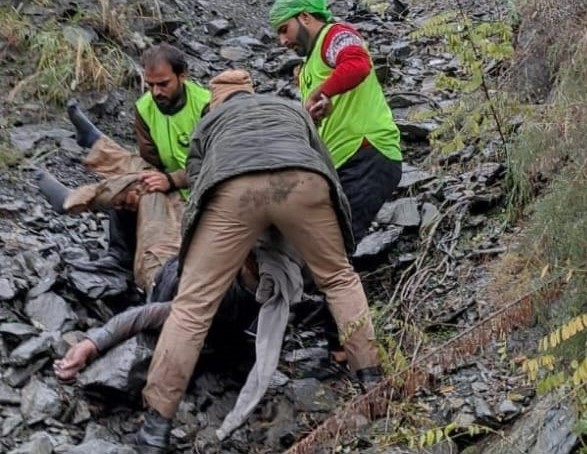 Srinagar, Nov 15: The Joint Action Committee (JAC) of Engineering Graduates Association, an amalgam of JKCEGA, JKMEGA and JKEEGA, held a meeting through virtual mode on Tuesday.
The meeting was attended by Er. Nisar Amin (President JKCEGA), Er. Firdous Ahad Bhat (President JKMEGA) and Er. Peerzada Hidayat Ullah (JKEEGA).
The members present expressed huge regrets over the tragic accident that occurred in Assar area of Doda District on 14-11-2022 wherein Er. Mohammad Rafiq (Executive Engineer), Er. K.K Sharma (Assistant Executive Engineer) & Hafeez (Driver) lost their precious lives & Er. Suresh Kumar (Superintending Engineer) got critically injured and regrettably later succumbed to injuries, a statement said.
Terming the accident as shocking, tragic and unfortunate, the JAC expressed huge discontentment and resentment on district administration Doda for non-utilization of immediate resources and potential rapid measures to airlift the injured to Jammu or Srinagar for specialized hospital treatment.
The members desired to put on record that the whole fraternity is in complete shock due to the unfortunate accident and all together felt repulsive on the casual and informal approach of district administration Doda.
They appealed to the admin especially the Chief Secretary & the Principal Secretaries of R&B, Jal Shakti and PDD that Engineers are on forefront in implementation of the agenda of transparent development and public Deliverance but the issues faced are not being resolved.
Furthermore, the Committee appealed to the administration for all possible assistance, especially financial packages to these Heroes who died in the line of duty.
The whole Engineering fraternity in general & Civil, Mechanical and Electrical in particular, is requested to hold mass condolence gatherings at respective workplaces and wear black bands as a mark of displeasure and protest against district administration Doda for their callous approach after this unfortunate accident.
Additionally, the Committee appealed to the Chief Secretary and all the Principal Secretaries that the overburden & inconvenience to the workflow caused by unnecessary meetings in undesirable manner & timings being called by district administration and Tehsil level offices after office hours is tremendously affecting the deliverance of engineers at sites and more importantly their health and same exercise should be minimized and subsequently put out of practice in near future.