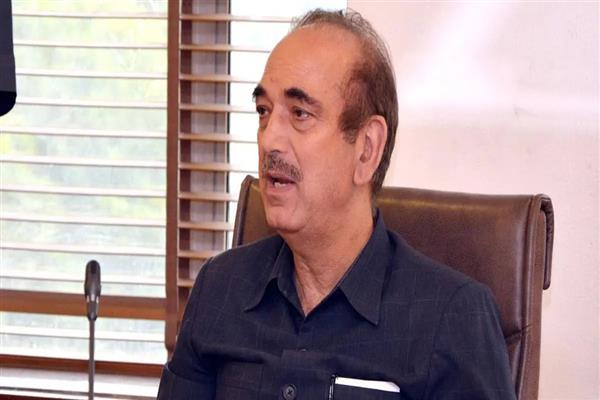 Srinagar, Nov 03: Democratic Azad Party (DAP) Chairman Ghulam Nabi Azad on Thursday questioned the delay in elections, saying, "If everything is normal, why elections are not being held in J&K".
Azad who recently formed his own party DAP after severing decades-long ties with Congress party, said the claims of normalcy in Jammu and Kashmir being disseminated by Government of India and J&K have proven hoax as the way for the conduct of assembly elections is being obstructed one way or the other. "If everything is normal, why GoI is hesitating in conduct of assembly elections in J&K", Azad said.
He said that delay in election cannot be justified by few incidents. "The past is witness that elections were held despite militants fired thousands of bullets everyday in Kashmir. If today Government is delaying elections, then their claims of normalcy are doubtful", the DAP chief said.
Azad said there is no room for delay in conduct of elections as people are craving for public representatives to whom they approach and address their demands.
"Elections should have been held before four years. When everything is normal. When there is no stone pelting, no hartals, no agitation even when militancy, according to security forces is about to over, so what is the purpose of delay in elections in J&K", Azad questioned.
Azad while praising the role of Lieutenant Governor Manoj Sinha said he cannot change things on his own.
"The LG Sinha is a good person. I want J&K becomes state and him as full-fledged Governor. He cannot reach out to everywhere, he can't work on behalf of 90 MLAs, he is also human being ", Azad added.
Regarding a question about different roadmaps floated by different parties, he said, " people in J&K are politically mature, they will judge everyone on merit."
"If J&K is back to normalcy, I don't think there is need of Governor rule further", he added.