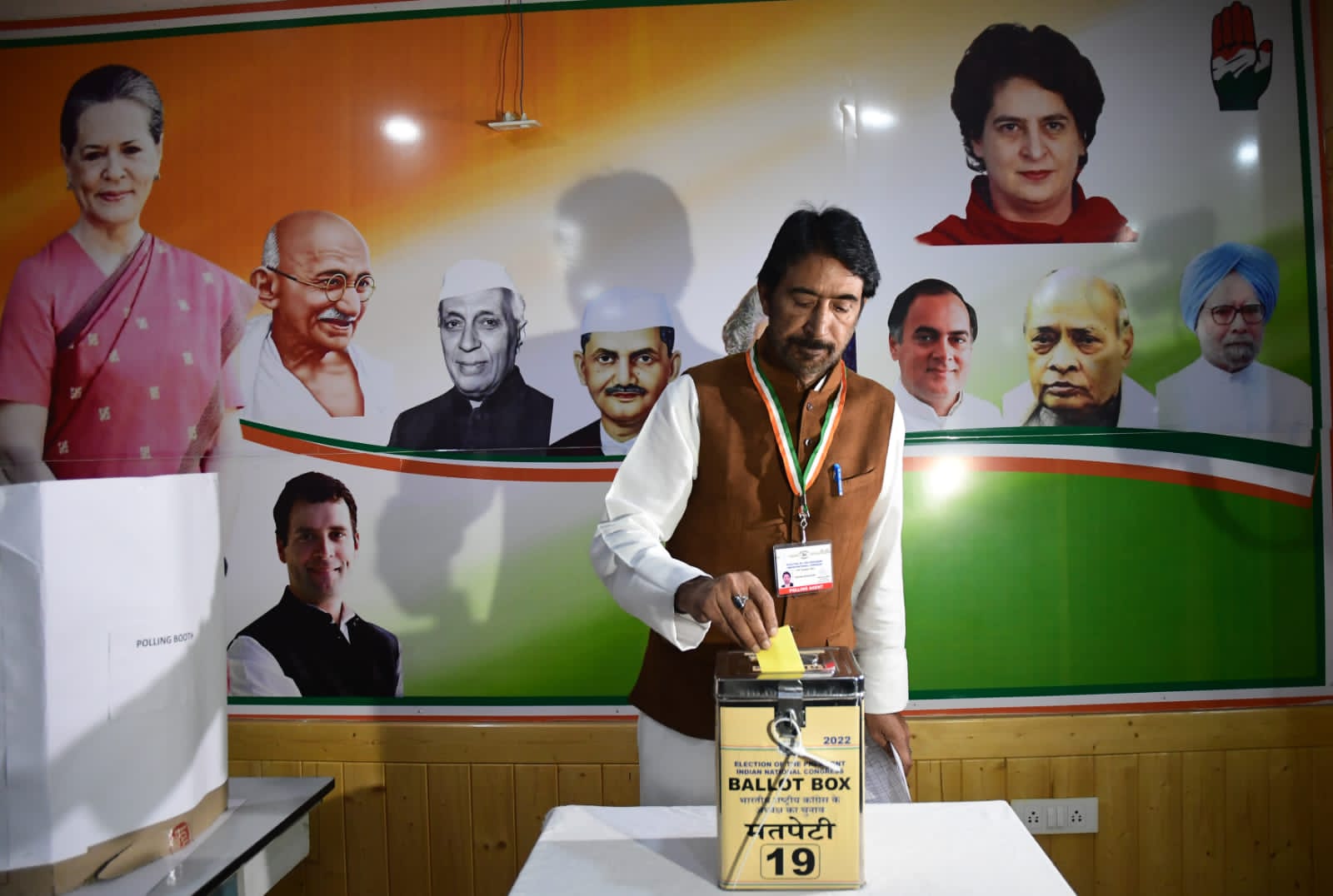 Srinagar, Oct 17: A total of 321 votes were polled on Monday in Jammu and Kashmir to elect the All India Congress Committee (AICC) president as senior leaders Mallikarjun Kharge and Shashi Tharoor faced eachother for the post.
The elections for the post of AICC chief have taken place after 24 years. The last contested election was held in 2000, when Sonia Gandhi defeated Jitendra Prasada by a huge margin of 97%. She was the party's longest serving president from 1998 to 2017.
Pradesh Returning Officer (APRO), Ranjit Ranjan, who is Member of Parliament (Rajya Sabha) Chattisgarh said  that of total 340 votes, 321 voters from across J&K cast their ballot today, adding that 94.5 per cent polls were polled today in the Union Territory.
Besides, three more people including APRO, CRO and DRO also voted today either in Jammu or in Srinagar, taking the number of votes polled today to 324, she added.
Divulging the details, PRO said that a total of 19 votes were not polled which include 7 seven from Kashmir and 12 from Jammu, adding that those who couldn't cast their ballots today were out of station either due to health condition or other reasons.
She said that of 173 votes were polled at Srinagar polling station while two including two election incharges also cast their ballots in Srinagar and 7-8 were from Jammu quota, adding that in Jammu 151 votes were polled and two among the voters were from Kashmir quota.
"As an election incharge, I am very happy that peaceful conduct of polls has taken place. We are satisfied," she said.
As per the statement issued to KNO, ten delegates of Jammu province were allowed to poll votes in Kashmir or elsewhere in the country as per norms.
Election In charge Ranjit Ranjan cast her vote in Srinagar while senior congress leader Dr Karan Singh, JKPCC President Vikar Rasool, Former PCC President G A Mir and other leaders of Kashmir cast their votes in the summer capital.
In Jammu, several former ministers, former legislators and senior functionaries of PCC, Dist Presidents, including Working President Raman Bhalla, Mula Ram, Ravinder Sharma, Yogesh Sawhney, Jahangir Mir, Shabir Khan, Manmohan Singh, Th Balbir Singh, T S Bajwa, Ved Mahajan, Shah Mohd Chaudhary, G L Chlotra, Ashok Dogra, K C Bhagat, Dina Nath Bhagat, Kanta Bhan, and others cast their votes.
Two candidates Mallikarjun Kharge and Shashi Tharoor are in the fray for AICC post. Mallikarjun Kharge visited Jammu and Kashmir on October 09 in search of support from party delegates to win the presidential polls, held today. The counting will be held on October 19, 2022.
Just two weeks ahead of the elections, former Pradesh Congress committee president, Prof. Saifuddin Soz and his son Salman Anees Soz signed as proposers for Shashi Tharoor's bid for Congress president election.kno