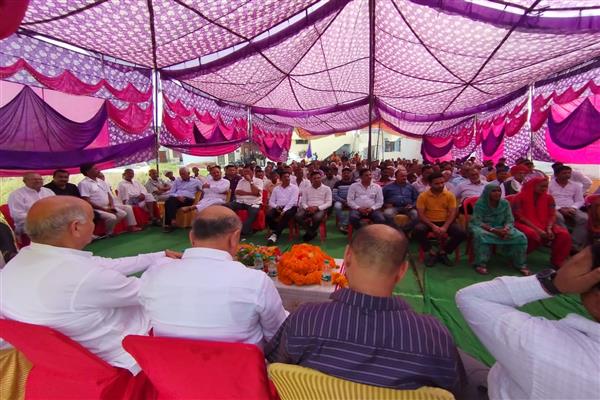 Srinagar, October 9: The members of recently formed Central Zone Committee of Democratic Azad Party led by former Deputy Chief Minister Tara Chand today met with delegations of Chamb and Akhnoor assembly constituencies at border village Pallanwalla to propose the names for Distt. Jammu and Central Zone Committees.
Members led by former Deputy Chief Minister Tara Chand, former MLA Balwan Singh, Senior leader and Advocate MK Bhardwaj ,Corporators Gourav Chopra,Sobit Ali and Vicky Mahajan interacted with delegates of both the assembly constituencies .
Visited delegates unanimously proposed the names for Distt. jammu and Central Zone Committees of Democratic Azad Party.
Delegates present in the meeting appreciated the efforts of the senior leaders to visit every Distt. headquarter and assembly for carving the structure of committees after consultation with common workers of DAP.
Delegates decided to strengthen the party at grass root level and also carry forward the message of chairman of the party Jenab Ghulam Nabi Azad to every nook and corner of Jammu and Kashmir.
while speaking to media persons, former Deputy Chief Minister Tara chand said that Ghulam Nabi Azad is the only Chief Ministerial face who is trusted and tested by the common man of Jammu and Kashmir.
He urged the delegates to join hands for the propagation of the policies and programmes of Azad among the common and needy persons of the J&K. He said that DAP will vigorously fight to ensure justice to common people and retreated party's commitment to restore Statehood, secures jobs for locals and land for people of Jammu and Kashmir.