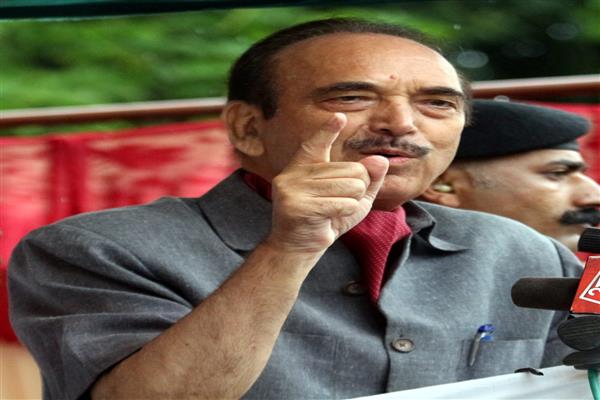 Srinagar, Sep 15: Stating that the people of Jammu and Kashmir were emotionally blackmailed through hollow slogans, former Chief Minister Ghulam Nabi Azad on Thursday said that his politics is based on truth and he won't make fake promises with people.
Addressing workers in Anantnag,  he said that he will prefer not to get a single seat but won't make fake promises with people of J&K as his aim is welfare of people and curbing unemployment.
"In my tenure as a CM, we were working in two-three shifts but today even work isn't done in single shift  and the hospitals and schools built in my tenure have still staff shortage," he said, adding that more militants surrendered in his tenure and a round table conference was held in which 27 parties participated.
He said that gun culture has devastated J&K and urged those who have picked guns that it is not the solution and fight peacefully for your rights as Gandhi never took a sword.
"I don't want to see more dead bodies on roads and I am not among those who will give emotional slogans like "Azadi milega" but I am telling 'Azaad nai milegi',"  he said adding, "you have given chance to those who give slogans of Self rule, Autonomy but what we have they got so far".
"I don't want to mislead any body and I never said that Article 370 won't come and it can be restored through three way one is if you have good approach with Modi sahib and if you convince him but I am not so close to him so I won't make promise, Second is any party having 2/3 majority in Parliament and third is supreme Court but not body can claim that they can direct supreme Court to restore it and when any party will get 2/3 majority and then take up this issue, nobody can predict and that is the main reason, I am not making promises that I will restore," he said.
"If I will get the opportunity to serve people of J&K,  I promise you no innocent will be killed, all living here irrespective of religion will be safe. Statehood will be restored, job and land rights to people of J&K and two crore tourists will come to Kashmir and everyone will get employment," Azad added. kno