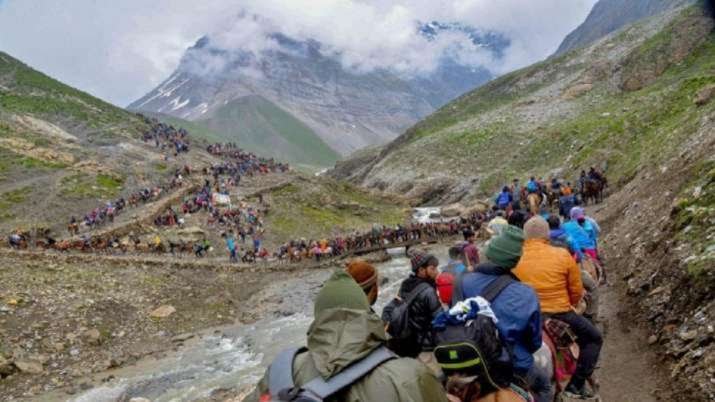 Srinagar, Aug 11: Chadi Mubarak (the holy mace) reached the Cave shrine of Amarnath on Thursday, making the formal end of 43-day long Amarnath Yatra 2022
Officials said that the annual Amarnath Yatra which remained suspended due to Covid-19 ended peacefully on Thursday
They said that Chadi Mubarak reached the Holy cave on Thursday for final pooja, coinciding with Raksha Bandhan, making the formal end of Annual Amarnath Yatra 2022.
They said that government was expecting that around 6-8 lakh pilgrims will visit Kashmir for Yatra this year, however, 3.04 lakh pilgrims visited holy cave this year only.
Official data suggests that this year even though 398611 registrations were done but only 304439 pilgrims did Darshan, while 71 casualties were reported.
They further added that around 71 Pilgrims died this year during pilgrimage including the 15 pilgrims who died due to flash floods triggered by cloudburst on July 08 while rest died due to cardiac arrest and other ailments
Moreover around 25 pilgrims were injured in a road accident in Qazigund area on National Highway on July 18.
They said that group of sages led by custodian of the holy mace Mahant Dipendra Giri carrying Chadi Mubarak, holy mace of lord Shiva reached the the Amarnath cave on Thursday.
The 145 kilometre Chadi Mubarak Yatra starts from Dashnami Akhara in Srinagar and during the yatra route, sages perform hawans at Pampore, Bijbehara, Anantnag, Mattan, Aishmuqam and finally at Pahalgam where the procession takes rest for two days before proceeding to Amarnath holy cave.
They said sages along with Chadi Mubarak usually spend two nights at Pahalgam while one at Chandanwari, one at Sheshnag and one at Panchtarani before reaching to Amarnath cave.
They said that amid the threat of militant attacks, the government had taken several steps to avert any untoward incident.
Moreover health department had kept oxygen booths and health facilities available after every two kilometres on both routes of the Amarnath Cave, they said.kno