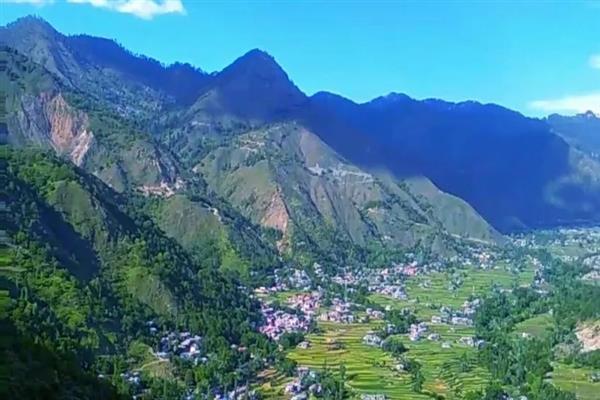 Kupwara, Aug 09: Tourists from different areas of Jammu and Kashmir and outside have thronged border areas of Northern kashmir to enjoy the picturesque frontier region.
The rattle of guns has been replaced by the noises of tourists clicking selfies who were seen enjoying the breathtaking mountains while the tourism along LoC started gaining momentum in 2020 when neighbouring countries India and Pakistan agreed to annex with a ceasefire agreement.
The locals said that the tourists from across the country have been coming to the border region since last year
"The Karnah Valley has witnessed a huge influx of tourists since last year that they have never seen before as the situation on the border in the region often remains tense," locals said.
"We hope that such a rush of tourists will continue in the future as well. Border areas have a huge potential for tourism and the government should pay more attention to these places now, " Aslam Khan a local said.
He said that the tourist from Delhi, said that they are delighted to visit Titwal area. "Earlier we were hearing through the media that the situation here was very tense between Indo-Pak as they keep shelling these border areas resulting in death and destruction but there is no fear today. Beauty, peace and tranquillity can be seen here now, " he said.
"I consider myself a lucky person because I have seen kashmir's border areas where I find peace. We also visited Tangdar, Karen and other areas. Apart from the bad road condition, it is a beautiful valley where everyone should come once, " says Rutba another tourist.
She said that the government should pay more attention to this place so that the tourists here do not face any problem.
Ifan Mir, a resident of Srinagar said that, "I think most tourists are visiting here this year and it is a beautiful valley. Most people come here to see the divided bridge of Titwal area.
Earlier I heard about it from people but today I consider myself lucky as I have seen this bridge.
Last year, Jammu and Kashmir launched border tourism at low key in a bid to attract tourists and pilgrims with a twin-aim to boost the economy of the border dwellers and also increase the footfall along the Indo-Pak border. kns