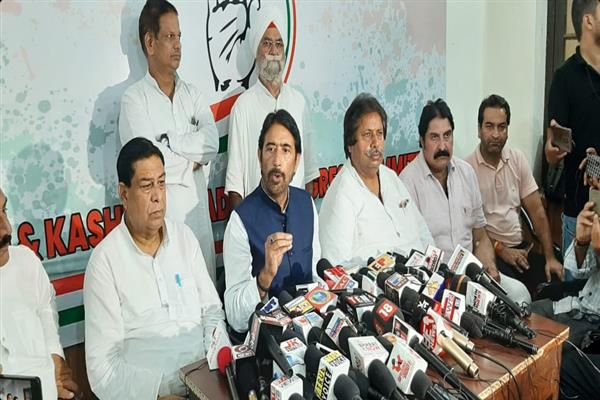 Srinagar August 02 :  State Congress has asked the Prime Minister Narendra Modi to announce statehood to Jammu and Kashmir on August 15 from Lal Qila besides announcement about assembly elections at the earliest.
Addressing a press conference here today, JKPCC president G A Mir alongwith working President Raman Bhalla Mir said the historical state and people's rights were taken away unilaterally and now when govt claims normalcy, they should announce statehood with consititutional safeguards for land and jobs besides the clear roadmap of assembly elections, from Lal Qila.
He said that Congress shall hold strong protest on August 5 throughout country and gherao prime Minister
item house against unprecedented price hike of all items of everyone use. This is record inflation of all items besides record unemployment in the country.
He referred to the brutal lathicharge on daily wagers yesterday, he said that the government is totally unsympathetic towards their genuine demands of regularisation and regular wages. They deserve all benefits after decades of services. The agitation has hit hard the entire water supply system especially in rural areas and the government is unmoved for more than one and a half months.
Mir announced that Congress shall hold 75 kms long padyatras in every districts of the country in connection with 75th year of Independence. He said that Trianga yatras shall cover several parts in Jammu and Kashmir also from, August 9th to Aug 14th.
Replying queries about sale of Tringa at BJP Office and collection of ?20 per student and ors etc, the JKPCC Chief took a dig at BJP saying they have sold all assets of congress for sixty years and now it's turn of Trianga. The Congress party has given sacrifices for the nation and this tringa and those who did not take part in freedom struggle or did not hoist flag for 52 years on their office, after independence like RSS, should learn and hoist it now, probably this govt wants them to follow
this year.