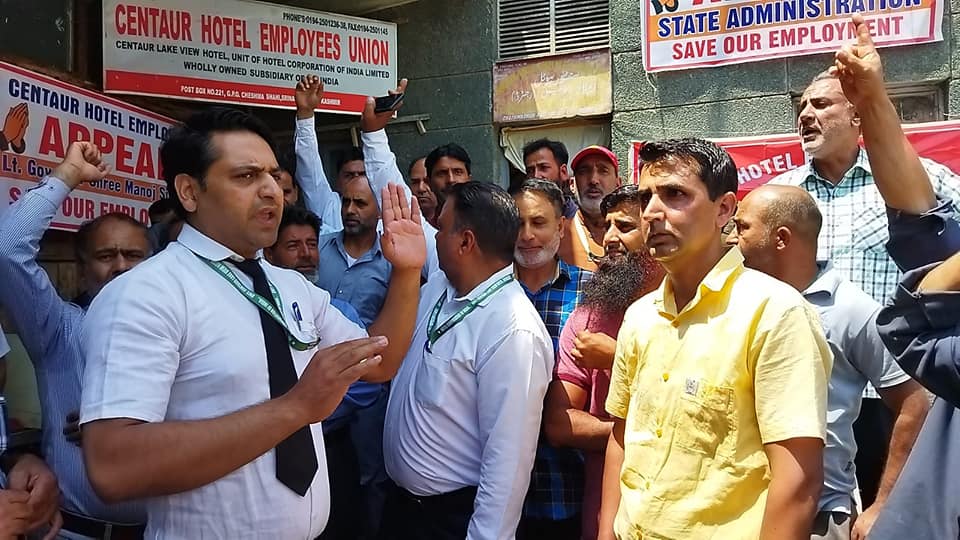 Srinagar, Aug 01: Scores of the employees from Centaur Hotel on Monday staged a protest against what they termed as the 'polarization of the employees', saying that the eviction order issued by the government on June 14 was aimed at eliminating the staff.
The employees assembled at Srinagar's press enclave here and chanted slogans in favour of their demands. Carrying placards, the employees demanded early redressal of their issues.
Farooq Ahmad Bhat, Centaur Hotel Employees representative, said that it is unfortunate that the employees were polarized through the eviction order issued by the government on June 14, 2022.
He said that the government's only motive was to eliminate staff, following which they knocked the doors of Supreme Court (SC) where a direction was passed that the employees should not be eliminated. "However, the directions were simultaneously denied by the government. Accordingly, we went to the High Court where an order in favour of 160 employees was passed," he said.
"You cannot eliminate the employees; you cannot stop their dues, salaries. This is against the constitution as well as the democratic ethics," he said, while appealing to the Lieutenant Governor, Manoj Sinha to come to the rescue of the employees now.
Pertinently, the Jammu and Kashmir government on June 14 took over the possession of Centaur hotel and sealed the building after the Hotel Corporation of India violated conditions of the lease agreement.kno