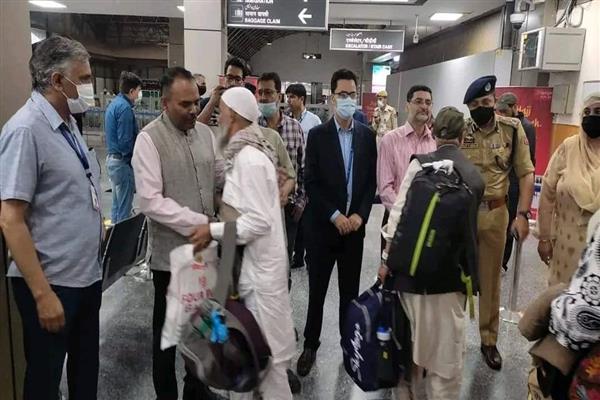 Srinagar, July 16: The first batch of 145 pilgrims of Jammu and Kashmir on Saturday returned from Saudi Arabia after after performing the annual Hajj 2022, officials said here.
An official said  that the first batch of 145 Hajj pilgrims arrived in the first flight at Srinagar International Airport today morning after completing their Hajj pilgrimage.
He said that Divisional Commissioner Kashmir, P K Pole, Deputy inspector general of police Central Kashmir Range Sujit Kumar, Deputy Commissioner Budgam received the first batch of pilgrims at Srinagar airport and congratulated them on performing the Haj, besides enquired about their well being.
The official said that all the requisite arrangements have been put in place to facilitate hassle-free return of the pilgrims to their respective destinations
He futher said that the first batch of pilgrims expressed satisfaction over the arrangements made by the Government for their smooth travel and stay at the Holy places in Saudi Arabia
Notibaly, every year thousands of Muslims travel to Saudi Arabia, to perform Haj, considered the fifth pillar of Islam, in the last Islamic calender month of Dhu al-Hijjah. kns