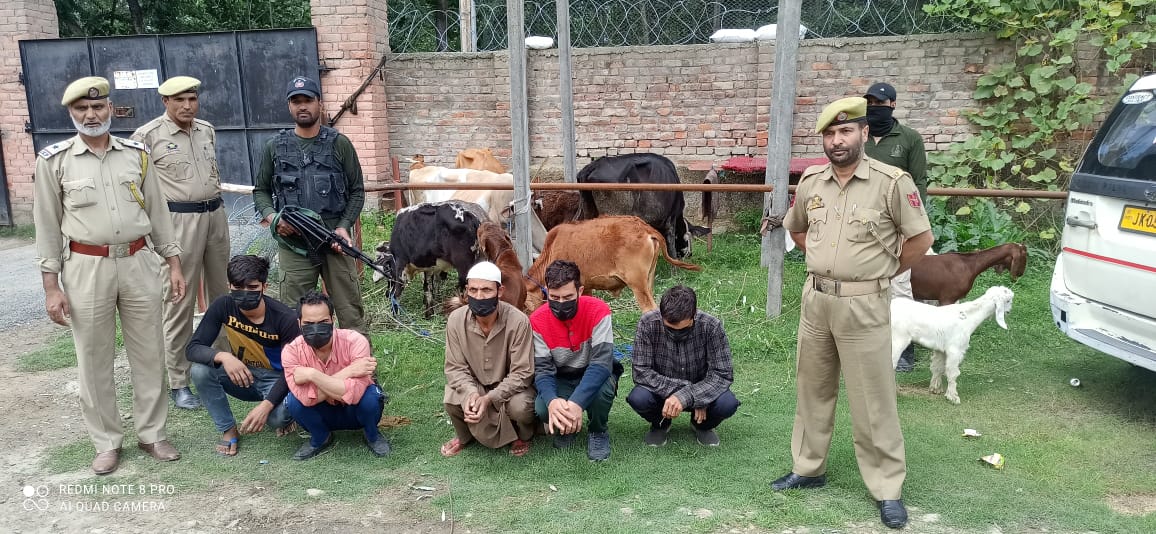 July 14: Police in Srinagar have solved a Cattle theft case by arresting five accused person involved in the commission of crime and recovered stolen Cattles worth lacs from their possession.
According to the spokesman, on 04/07/2022, Police Station Sangam Eidgah received a written complaint from Mushtaq Ahmad stating there in that some unknown burglars entered into their cow shed located at Saidpora Sangam and tried to stole two cows from their Cow shed but where chased away by people .
Accordingly, the police spokesman said a case vide FIR No. 24/2022 relevant sections of law was registered in Police Station Sangam and investigation was set into motion.
"On receipt of this information, a special team was constituted and during the examination of technical evidences and CCTV footages near the place of occurrence, one vehicle bearing Regd no Jk16A 5693 was identified in cctv footage which was used in commission of crime and was seized . After strenuous efforts, the accused person identified as Hilal Ahmad Chopan S/o Ab Gani Chopan R/o Hayin Palpora Kangan A/p Rakh colony Noorbagh Srinagar was arrested," spokesman said.
"On his disclosure stolen Cattles which include 02 cows ,02 calves were recovered from his possession which he had kept inside his rented premises located at Rakh colony Noorbagh,".
During investigation of the case it surfaced that four more accused persons namely Ab Majeed Kumar S/o Gh Nabi Kumar R/o Lalpora Lolab (2)Bilal Ahmad Ahangee S/o Mohd Sideeq Ahanger 3)Hilal Ahmad Ahanger S/o Mohd Sultan Ahanger R/O's Nagbal Yousmarg and Zaffaer Iqbal Malik S/o Gulzar Ahmad Malik R/o Reasi A/p Seki dafar were involved in the said case and further 02 Cows along With 05 calves and 7 goats were recovered from Pulwama ,Kangan and khunmoh sgr on their disclosure which they had stolen from Check Mujgund Shalteng, Mirgund ,Singhpora Hygam and Tujjar sharief sopore .
Concerned police stations were intimated for further course of action, the spokesman said.