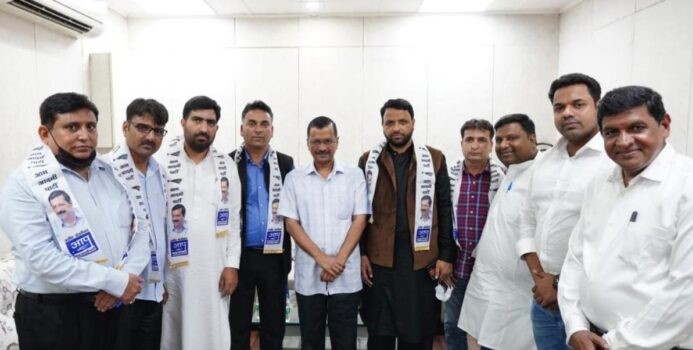 Srinagar, Jul 14: A high drama has unfolded over the merger of Jammu & Kashmir Peoples Movement with Aam Aadmi Party on Thursday.
Hours after JKPM president Dr. Ghulam Mustafa and a few office- bearers of the party announced its merger with AAP, a group of leaders from Kashmir-based political party threatened to initiate legal proceedings against Kejriwal's political party over its claims of the merger.
Reports said that JKPM president Dr. Ghulam Mustafa Khan and few other office bearers of the party joined AAP in New Delhi in presence of Arvind Kejriwal.
"Inspired by @ArvindKejriwal's 'Politics of Work', Jammu & Kashmir Peoples Movement (JKPM) merges with AAP!. J&K now has a Corruption-free, development-centered alternative," wrote AAP on its official twitter handle.
Meanwhile, a group of leaders, claiming to be office bearers of JKPM, denied that the party has merged with Aam Admi Party.
"As per JKPM constitution, merger of the party needs the approval of 2/3rd members of the state executive committee, the highest decision-making body of the party. The state executive committee has not approved any such merger," they said.
The statement issued by them further states that state executive committee has taken a strong note of the claim made by Ghulam Mustafa, Mudasir Mir and AAP.
"The state executive expressed surprise how a person of the stature of Chief Minister was made to believe about the merger. The state executive committee has decided to initiate legal proceedings against AAP and approach Election Commission in this regard," reads the statement.
The JKPM, which was launched with much fanfare in 2019, was pushed to political margins of Kashmir politics after Shah Faesal and former MLA Chadoora Javed Mustafa Mir quit it.
In the 2020 DDC polls, JKPM was part of the PAGD but it recently announced that it was no more part of the conglomerate. The JKPM and AAP have diametrically opposite stance on abrogation of Article 370 by the Centre.
While Kejriwal had supported abrogation of Article 370, JKPM challenged it in the Supreme Court. "We support the government on its decisions on J&K. We hope this will bring peace and development in the state," Kejriwal had tweeted on August 5, 2019.