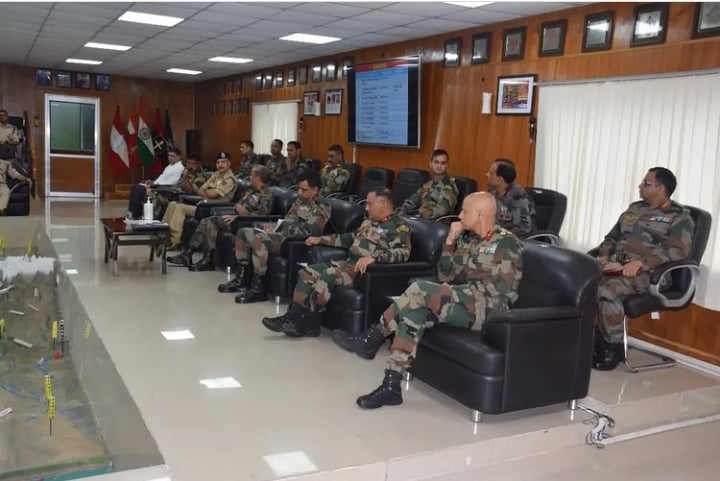 Rajouri, Jul 14: A high-level joint security review meeting was held in Rajouri in the wake of upcoming Baba Budha Amarnath Yatra slated to commence in last week of July.
"A joint conference of different security forces and civil administration was held in Rajouri in which top brass of forces, civil administration in twin districts took part," the officials said.
They said that the meeting was held at Rajouri headquarter of Counter Insurgency Force Romeo with General Officer in Commanding Romeo Force, District Magistrates of districts, Deputy Inspector General of Police, Deputy Inspector General of BSF, Senior Superintendent of Police Rajouri, Army Commanders of Brigade level in Rajouri and Poonch and other officers of police, army, BSF and other forces were present.
Officials said that agenda of the meeting was based on security arrangements for upcoming Baba Budha Amarnath Yatra which is set to start on 28th of July and yatra batches comprising of yatris from across the country are expected to reach Rajouri Poonch for paying obeisance at Baba Budha Amarnath temple.
"All the senior officers of forces as well as of civil administration presented their words in the meeting which were aimed to discuss the prevailing security situation and to put in place tight arrangements for upcoming yatra," the officials said, adding that all the main points of yatra security were discussed in the meeting with main aim to ensure proper synergy among forces.
Meanwhile, in a statement, army said that in view of upcoming Budha Amarnath Yatra, a joint coordination conference was conducted with meeting agenda was to coordinate and assess the security and welfare arrangements for smooth conduct of yatra.