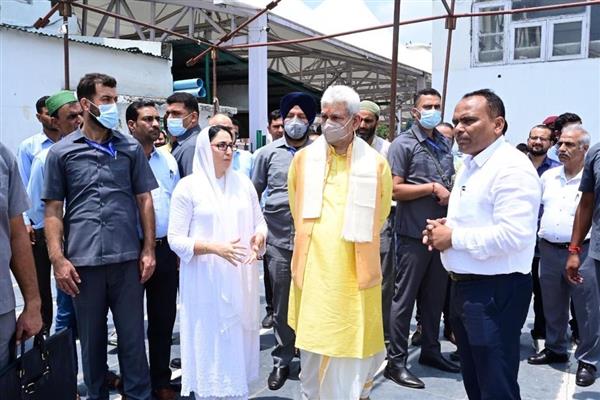 Srinagar, July 07 (KNS) Lieutenant Governor of Jammu & Kashmir Manoj Sinha along with J&K Waqf Board Chairperson Dr Darakhshan Andrabi today paid a visit to Dargah Hazratbal Shrine to take stock of the Eid celebrations.
According to a statement, they interacted with all government departmental representatives & Waqf management Committee representatives involved in the Eid arrangements and instructed them to upgrade the facilities for the devotees.
LG Sinha said that J&K Waqf Board is doing exemplary work in upgrading facilities at sufi shrines of J&K.
He said that peace & harmony was the spirit of all religions and they need to nourish this spirit of spirituality among new generation so that while shining in spiritual excellence they are able to create a society where co-existence and harmony are the driving forces.
He instructed the divisional administration to work hard in glove with the Waqf body to ensure all facilities to the people at all shrines and important prayer locations for smooth Eid prayers.
While thanking the Lt Governor, Dr Darakhshan Andrabi said that this visit of the head of the UT to Hazrat Dargah means a lot to all and sends a message of care & well being for all without any discrimination.
She said that spiritual traditions of Kashmir need a huge revival.
Divisional Commissioner Kashmir P K Pole, DC Srinagar Aijaz Assad, Director Tourism Dr G N Yattoo and other departmental heads were also present on the occasion.