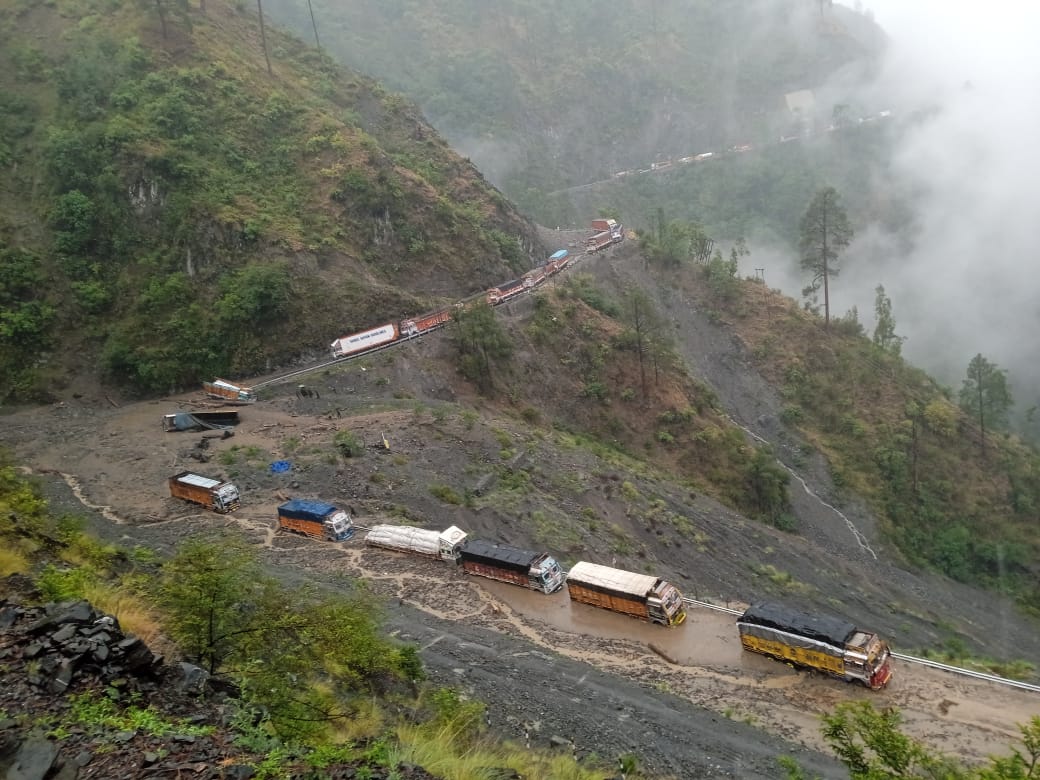 Srinagar, Jun 22: Jammu-Srinagar highway remained closed for the second consecutive day on Wednesday as flash floods triggered by heavy rains washed away the shuttering of an under-construction bridge Peerah Bridge.  
Also a 150-foot stretch of the highway was washed away near Toldi Nallah in Udhampur district, officials said. A number of machines were involved in the work to restore the road patch swept away in the flash floods in the Tawi river, they said.
They said nearly three dozen landslides, mudslides and incidents of shooting stones were reported on the highway in Ramban and Udhampur districts. The thoroughfare was closed for traffic due to shooting stones at Panthiyal on Tuesday. Work is on to clear the highway, the officials said.
They said the situation at Battery Cheshma on the highway was also stated to be bad as a lot of mud is to be cleared to ensure that heavy vehicles trapped in it are cleared.
"Tomorrow on 23-06-2022, movement  of all type of vehicles shall remain suspended on Jammu-Srinagar highway in view of major landslide near Dewal bridge which has damaged 100 to 125 meters of both tubes of highway road," a traffic department official said. The thoroughfare was also blocked at Cafeteria Morh,Tunnel T2 and Battery Chashma where restoration work was still going on and will continue on Thursday also.
Likewise vehicular movement from Jammu to Chenani, Patnitop, Doda, Ramban, Gool,  Banihal, Srinagar and vice-versa shall also remain suspended because of closure of highway near Dewal bridge, the official said.
" People are requested not to undertake any journey on Jammu-Srinagar highway and other mentioned routes till clearance work is completed."
The Mughal Road, connecting twin districts of Poonch and Rajouri with Shopian district, also remained blocked due to landslides at Poshana while the SSG road was shut due to blockade at Chini nallah, they said.
Regarding SSG Road, he said, "Subject to fair weather and good road condition,  vehicular movement on Srinagar-Sonamarg-Gumari road shall be allowed from both side viz Srinagar towards Kargil and vice-versa." LMVs will be released from Minamarg and Sonamarg at 0500 hours upto 1700 hours and HMVs will be released from Minamarg towards Srinagar at 0700 hours upto 1130 hours and from Sonamarg towards Kargil at 1300 hours upto 1800 hours.
"No vehicle shall be allowed between 1800 hours and 0500 hours."
Regarding  Mughal Road, the official said that subjected to fair weather and good road condition, LMVs shall be allowed from both sides and HMVs shall be allowed from Srinagar towards Jammu on Mughal road.  "LMVs followed by HMVs (upto twelve tyres) will be released from Herpora (Shopian) towards Poonch at 0900 hours. upto 1500 hours. & LMVs will be released from Behramgalla (Buffliaz) towards Srinagar at 0900 hours upto 1200 hours," he said, adding, "Nomadic movement shall allowed uninterrupted,  subject to situation of road."
Meanwhile Deputy Commissioner, Ramban, Mussarat Islam personally monitored the road clearance operation at various places on highway and the arrangements for the stay of passengers stranded in the area due to blockade of the road.
The DC said that landslides blocked the highway at Mehar, Panthyal, Shanpalace, Marog,  where the clearance work was on. He further said that the road will be cleared for vehicular traffic very soon.
"Meanwhile, the district administration has made  arrangements for night stay, meals and other facilities for the stranded passengers" he said..gns