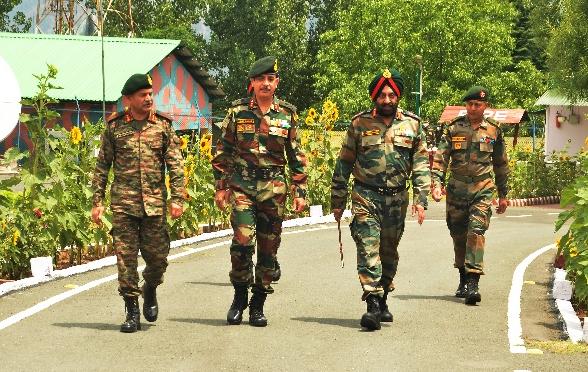 Jammu, Jun 18: Ahead of Amarnath Yatra, which will commence on June 30 and conclude on August 11, Lieutenant General Upendra Dwivedi, General Officer Commanding -in-Chief, Northern Command, visited the Counter Insurgency Force (Delta) to review the operational preparedness of the units and the security situation in the area.
The Army Commander was accompanied by Lieutenant General Manjinder Singh, General Officer Commanding (GOC) White Knight Corps during his visit.
The Army Commander was briefed by GOC, CIF (Delta) and commanders on ground regarding various actions being undertaken by the Force to ensure peace and stability in the region.
Being stationed in the erstwhile Doda district, CIF, Delta had the responsibility to protect   strategically important Jammu-Srinagar highway, which is primary route for Amarnath pilgrims.
As per defence spokesperson, Army Commander also reviewed the operational preparedness of the Force for smooth conduct of the Amarnath Yatra.
The Army Commander also interacted with the soldiers who are deployed for Counter Terrorism operations and obtained feedback on operations, training, weapons, equipment and administrative issues.
The Army Commander commended all ranks for their unwavering dedication to duty, selfless devotion and high standards of professionalism. He exhorted all ranks on the need to remain vigilant to counter the anti-national elements.
This year, Jammu and Kashmir administration expecting around 8 lakh pilgrims to the holy shrine in south Kashmir..
Officials said that yatra saw the arrival of around 6.3 lakh pilgrims in 2011, one of the highest footfalls in a decade, and plans were afoot to scale up the numbers.
After the 2016 unrest in the Kashmir Valley, post the killing of Hizbul Mujahideen commander Burhan Wani, there had been a steep decline in the number of pilgrims enrolling for the yatra.
The year 2018 saw the arrival of 2.85 lakh pilgrims, the highest after the 2016 unrest when hundreds were killed and several injured due to pellet guns.
In 2019, the yatra was abruptly called off on August 2, days before the government moved a legislation in Parliament to revoke the applicability of Article 370 of the Constitution in J&K, which granted the former State special status.
In 2012, 2013, 2014 and 2015, the number of pilgrims stood at 6.21 lakh, 3.54 lakh, 3.72 lakh and 3.53 lakh respectively.
"The yatra was planned in 2021 too but was called off due to rising cases of COVID-19. It could not be held in 2020, again due to the pandemic. This year, preparations are on to make it a grand success," said the official.
The yatra will commence from the twin routes of Pahalgam in Anantnag district and Baltal in Ganderbal district.
In 2017, eight people were killed when a bus carrying Amarnath pilgrims from Gujarat was attacked by Lashkar-e-Taiba terrorists near Batingoo in Anantnag district.
Following the incident, stringent measures were put in place, which included tagging of vehicles with Radio Frequency Identification (RFID).
This year, the Shri Amarnathji Shrine Board (SASB) has been asked to provide RFID tags to pilgrims, unlike previous years, when the CRPF and J&K police had been TASKED to do the job.kno