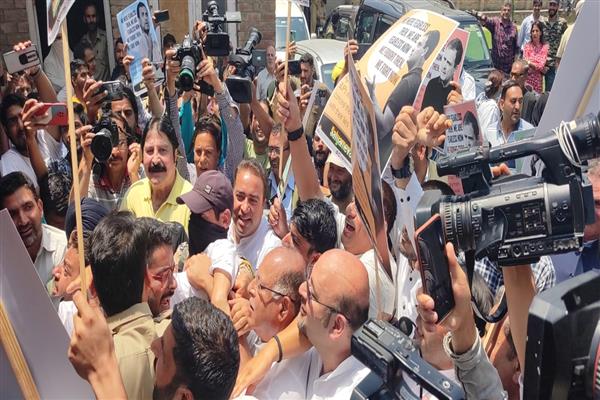 Srinagar June 16: As part of its nationwide protest programmes, the Jammu & Kashmir Pradesh Congress Committee (JKPCC) held a demonstration against siege laid around AICC Delhi HQ and unnecessary summoning of Rahul Gandhi to the ED Office.
The party also slammed the detention of Congress Leaders and workers and resolved to continue its fight against politics of hate and vendetta on the part of BJP.
PCC Office bearers, President, Senior Party leaders and prominent workers who gathered at Srinagar Party Office Thursday held a demonstration against siege of AICC Delhi HQ and unlawful detention of Congress Leaders and workers in Delhi who were protesting in a peaceful manner against the unnecessary summoning of Rahul Gandhi to the ED office.
CWC Member and Senior Congress Leader Tariq Hameed Karra who led the peaceful march asked the gathering of party leaders and workers to move towards Raj Bhawan to loge strong protest against the siege of AICC Delhi HQ and ED Summons to Rahul Gandhi and against the politics of vendetta unleashed by BJP.
While moving towards Raj Bhawan from Party Office Police entered the premises and closed the main gate, but the workers broke open the gate and marched towards Raj Bhawan. In the meantime, additional forces were called and the Congress march was stopped halfway by the police.
Addressing the party workers CWC Member said BJP Govt is using agencies against Congress Party to settle political scores, besides fabricating baseless cases to tarnish the image of its leaders, but such measures will be defeated tooth and nail.
The whole country is watching as to what BJP Govt is doing to conceal the truth by suppressing the opposition aiming to divert attention from its failure on all fronts, PCC said.
Congress won't be cowed down by the fabricated cases against its leadership rather such measures has the potential to further strengthen our resolve to fight back BJP's politics of hate & vendetta, CWC Member said.
BJP Govt is afraid of Congress party, as that, the Party is performing the role of constructive & principal-based opposition in the interest of the masses, there is no question of compromise on that despite the challenges and fabrication of baseless cases against the leadership, CWC Member added.
JKPCC General Secretaries Surinder Singh Channi & Yogesh Sawhney while addressing the Party workers lashed out at the BJP Govt for its attempt to divert attention of the countrymen under the garb of baseless cases and using ED against Rahul Gandhi on fictious grounds and said Congress won't be cowed down by such measure, it will continue to oppose the wrong policies of BJP.
Former Ministers, PCC General Secretaries, Secretaries, District Congress Committee Presidents, AICC Members, Frontal Organizations, Block Presidents, Member of the DCCs of Kashmir, Senior Party Leaders and prominent workers participated in the protest and vowed to fight back BJP for adopting undemocratic measures against the Congress Party.