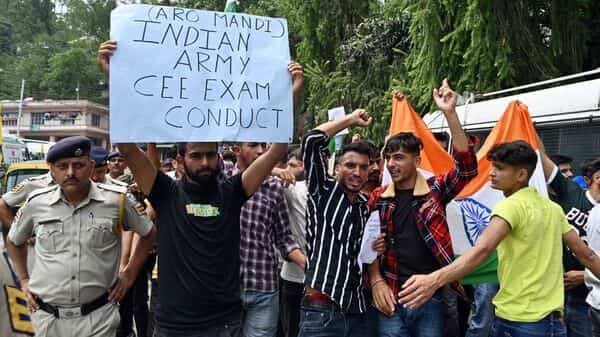 Jammu, Jun 16: Armed forces aspirants on Thursday joined countrywide protests against Agnipath Recruitment Scheme, which was roll down by union government to recruit jawans and lower rank soldiers in Army, navy and Air Force on a contractual basis for a four-year-period followed by compulsory retirement for most without gratuity and pension benefits.
A large number of armed forces aspirants, particularly candidates who have cleared their medical and physical tests for the recruitment in the army and air force last year and were awaiting the written examination, but it now stands cancelled assembled outside Jammu Press Club and holds a massive protest march.
They said that forms were submitted for the recruitment n the army in February 2020 but the process started a year later due to COVID-19 outbreak. The written test was initially scheduled for April 25 last year but was postponed several times.
The aspirants further said that the process for our recruitment stands cancelled and we have to re-apply in accordance with Agnipath. "It is a great injustice to us," they said.
They said that for selection in armed forces people have to work hard for couple of years but government in a blink of second dashed all such hopes.
Questioning the rationality behind the decision of barring pensioner benefits and retirement after four years, the aspirants said that pension bills of Member parliaments and Member Legislative Assembly are increasing but the government is not willing to provide pensions to aspiring soldiers.
They demanded that the new scheme be withdrawn and written examinations for the vacancies announced previously be held at the earliest.
Similar protests were held in bordering  Arnia, R S Pura, Hiranagar in the outskirts of Jammu, where youth also aspiring to don uniforms.
They blocked the main road and also burnt tyres before being persuaded by the police to disperse.kno